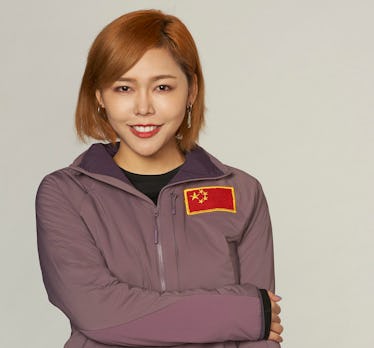 4 Things To Know About The Team China Competitor On 'The Bachelor Winter Games'
Coming from one of the two Asian countries represented on The Bachelor Winter Games, 25-year-old Zoe Tang enters the show with not much public information available about her season of The Bachelor China. Competing on the show's first year, Zoe seems like she may be one of the quieter personalities in the Winter Games house. Such a low-key presence has us wondering: Who is Zoe on Bachelor Winter Games?
While you can easily find out anything about the Bachelor franchises in countries like Australia or Germany, the Chinese version of the show is way more under wraps. Premiering in October 2016, it only airs on the Internet channel Mango TV, which I can only imagine is like China's own YouTube platform that is restricted to those within the country. If you try researching Zoe's role on the show, it's near impossible even just to find the name of her Bachelor suitor and where she finished in the contestant lineup. Unless she shares more on the show, I have no clue if she was an early eliminated contestant or an influential runner-up.
Nevertheless, the internet is an endless spiral of information, and we can always make do with the little tidbits that come our way. So, here's what you should know about Zoe going into the premiere of The Bachelor Winter Games.