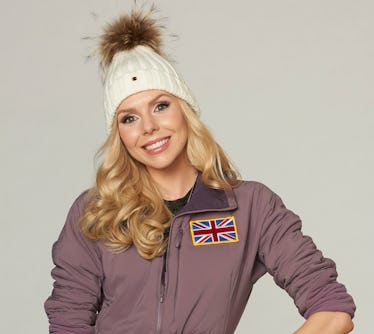 Here's What You Need To Know About Laura From The UK On 'The Bachelor Winter Games'
When it comes to the foreign contestants of Bachelor Winter Games, 29-year-old Laura Blair from The Bachelor UK likely has the smallest cultural adjustment ahead of her. Appearing on the first Bachelor season to air in the UK in six years, Laura has kept active on social media with a thriving fashion blog, but for those of us who don't keep up on the latest clothing trends, who is Laura on Bachelor Winter Games?
TBH, UK TV networks actually produce dating shows that are way more interesting than The Bachelor. There's Dinner Date, where a single person picks three blind dates based on dinner menus the candidates have prepared, and First Dates, where a couple is quite literally set up on a first date in a restaurant. Before these shows hit their prime, Laura's season of The Bachelor aired in 2011, and I suppose going on the show was the only solution for people looking for love on TV at that time.
Although Laura is listed as a Season 1 contestant in the Winter Games cast lineup, she actually competed on the show's fourth season but its first that aired on the UK's Channel Five network. Welsh rugby player Gavin Henson was at the helm of the season, which also filmed in Italy and the south of France in addition to the UK.
While this season was the OG appearance of twin contestants on The Bachelor, then-dancer Laura didn't exactly add much to the show's drama. She was eliminated in Week 3 of the competition, and Gavin went on to tell his Final Rose pick Carianne that he only wanted her to be his girlfriend.
After seeing this clip of Laura's appearance on the show, it seems that she happened to receive the sterotypical edit of a girl who comes on too strong. Ashley I., take note!
Since her cringeworthy Bachelor appearance, Laura has definitely grown up, kicking off an impressive career primarily in fashion journalism. According to her LinkedIn page, her main occupation is as a style blogger, maintaining her website London Fashion Girl. In the recent past, Laura has also worked as a stylist assistant at a magazine and a brand relationship manager, among other things.
Apart from one mention of Winter Games on her Twitter account in January, Laura's social media has remained focused on fashion and style. If you're looking for new fashion inspiration, you may want to check out her fashionista Instagram photos.
Laura's own YouTube channel mainly includes fashion and makeup hauls, but occasionally posts videos talking about her personal life. In this video from August 2017, she revealed that she used to live in the United States as a child. After several years of living in London, Laura moved back to her childhood home last year in the northwest of England to save money. Her new location, however, didn't stop her from sharing plans to attend London Fashion Week.
There also doesn't seem to be any mention of Laura's Bachelor past in her videos, which proves that she hasn't used her old credentials to advance in her career. Her upcoming appearance on Winter Games is another story. Social media followers tend to appear out of thin air after a stint on a Bachelor spinoff, so her Winter Games involvement could definitely help improve Laura's online following.
However, I choose to focus on the positive and believe that part of Laura's Winter Games motivation had to do with finding love. In a April 2017 blog post, she discussed always feeling her best when she was single, but she wondered if her blogging career was affected by not having a romantic partner to travel with.
My whole life my single self has been my best self. It's when I truly feel me, I work harder and I play harder. Probably because I have a habit of dating the wrong men but I've always been happiest alone. So jumping on a plane to Milan after flying solo to Los Angeles wasn't something that scared me...It dawned on me on this trip though after asking the sixth tourist to take a picture of me at [the] Duomo that perhaps I was at a single disadvantage. Is blogging a solo career or a double act? I then started to think about all the girls storming the industry and I found it hard to name any without a partner who didn't snap away behind the lens...As a self-sufficient independent woman (refraining quoting Shania Twain) I refuse to let the fact that I haven't got a 24/7 photographer, handy-man and shoulder to cry on hinder me.
Girl, PREACH. As a fellow lover of solo travel and activities, I think I've found a new favorite contestant in Laura. Clearly, she'll view Winter Games as a worthwhile adventure whether or not she finds love there.
The Bachelor Winter Games premieres on Tuesday, Feb. 13, at 8 p.m. ET on ABC.