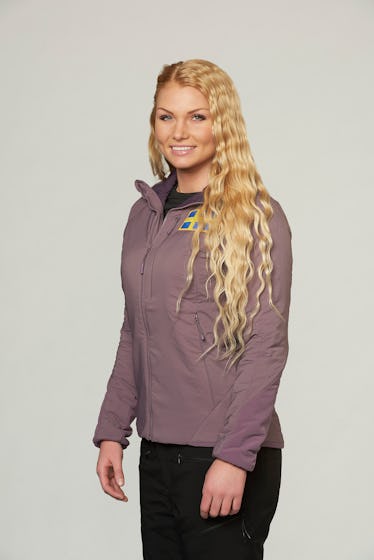 This Swedish 'Bachelor Winter Games' Competitor Is About To Bring The Drama
ABC
The official Winter Olympics is exciting at all, but I think it's safe to say that Bachelor Nation is pretty pumped for ABC's reality TV version. The Bachelor has been alive and well for 22 rosy seasons, and if you've ever wished it included a physical challenge element, you should probably tune into the The Bachelor Winter Games, because your dreams are about to come true. In addition to a fresh wintery format, the series includes international contestants and we can't wait to meet them. Who is Rebecca on Bachelor Winter Games? She's just one of the unfamiliar faces (to an American audience, at least) that we should expect to see compete.
Team USA's Winter Games showing is the strongest in terms of sheer numbers and includes recognizable franchise fan faves like Ashley Iaconetti, Dean Unglert, Eric Bigger, Ben Higgins, and Bibiana Julian. But addition to the contestants rocking red, white, and blue there will be 14 other Bachelors and Bachelorettes repping the UK, Australia, New Zealand, Japan, China, Finland, Germany, Switzerland, and Sweden. Rebecca Karlsson is one of two Swedish cast members — she's joined by Nastassia Yaramchuk — and appeared on the third season of Bachelor Sweden. Trevligt att träffas! (Apparently that's "nice to meet you" in Swedish, according to Google anyway.)
The Bachelor is on in over 37 countries, making the international casting pool for Winter Games incredibly deep. Why Rebecca? The show's executive producer Bennett Graebner spoke to E! News about the seemingly daunting process, explaining that the two Swedish contestants were the only cast members they never met before filming. Despite that minor hitch, it all worked out in the 26-year-old saleswoman's favor. Graebner said, "Unfortunately, when we were bringing everyone into Los Angeles to meet with us they were shooting their Swedish Women Tell All. They couldn't make it over, so we had to go on what the Swedish showrunners were telling us and looking at tapes of the show. Rebecca looked beautiful and great and smart."
Rebecca's small screen career kicked off last year when she competed for the heart of Stockholm business owner Niclas Lij's heart alongside 20 other women. She reportedly found out the gig on Facebook. Rebecca ultimately didn't win it, but that didn't mean her reality journey was over. Viva Vermont!
Allow Rebecca to introduce herself. And she's keeping it real right off the bat. "I guess I'm best known for being a b*tch," she admitted in a Bachelor Winter Games promo clip. "I'm looking forward to the competition. I'm competitive, both for guys and for sports. I've done a lot of snowboarding. When I'm out there I wanna win. I'll put you down."
OK, then. From the sound of that intro, Rebecca means business in every aspect of this competition.
Rebecca's Instagram highlights her fun-loving side, and showcases what appears to be a passion for fitness, friends, and... the occasional cheat meal.
It's unclear as to if Rebecca makes a serious love connection on Winter Games, but she's definitely one keep an eye on. Just ask her competitors. People recently interviewed a few ambassadors for Bachelor Team USA, where they doled out superlatives for their fellow cast mates. When asked who they thought was the most competitive, Ashley I. immediately shouted out Canadian Kevin, though Eric Bigger chimed in and said that honor would have to go to Rebecca. I guess she wasn't kidding around in that intro video after all.
Bachelor Winter Games premieres Tuesday, Feb. 13 at 8 p.m. ET on ABC. Quite frankly, we have never been more excited to watch "sports" in our entire life.