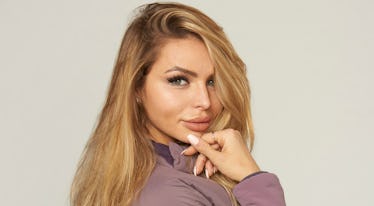 You'll Want To Know All About This Swedish Stunner Before 'Bachelor Winter Games' Starts
ABC
The Bachelor Winter Games is going to be completely different from every other show that we have seen in the Bachelor franchise for a bunch of reasons. The obvious one is that we are going to see contestants compete against one another in physical challenges without a singular suitor as the focus, but another huge first in the franchise is that Bachelor and Bachelorette contestants from all over the world will be coming together to compete. One of these new faces to U.S. audiences is Nastassia Yaramchuk. So, who is Nastassia on Bachelor Winter Games? Well, it looks like she might become one of the standout characters on the new show, so let's get to know a little bit about her.
Researching Nastassia Yaramchuk is not exactly the easiest task for a non-Swedish speaker, but with a world-dominating franchise like The Bachelor, you are bound to find some interesting details no matter what language you speak. Nastassia was one of the breakout contestants from the most recent season of Sweden's edition of The Bachelor, which was Season 3 and began airing in October 2017. She entered the competition hoping to find love with Niclas Lij, a successful entrepreneur from Stockholm, but did not make it to the finals. Nastassia's bio for the Swedish series lists her as a 27-year-old student originally from Belarus who moved to the city of Borlänge, Sweden to begin a career in modeling. However, ABC's more recent Bachelor Winter Games bio lists her as 26 years old, so I'm not sure what's going on there... Whatever her age, the cold weather at the Bachelor Winter Games resort in Manchester, Vermont will be a different Bachelor experience for Nastassia, since she is coming straight from her season of The Bachelor, which was set in the Dominican Republic.
It also looks like Nastassia Yaramchuk's modeling career totally took off after she appeared on The Bachelor. Her Instagram is packed with professional photos for a number of different ad campaigns and clothing lines.
Judging from video clips of her season of The Bachelor, available on the Swedish broadcasting site TV4, Nastassia Yaramchuk seemed adept at churning out the drama: think the Swedish version of Corinne Olympios. Although she did not win her series, Nastassia did make it far in the competition and seemed to become one of the breakout stars of the season (which explains why she was asked to represent her country in Bachelor Winter Games shortly after her season wrapped a couple months ago). Highlight clips show Nastassia going through a full range of emotions on the show, jumping from tears to sternly confronting her Bachelor, Niclas Lij.
Nastassia Yaramchuk's Bachelor Winter Games intro video also shows off the Swedish model's fun and quirky side, as she shares that she is hoping to find love at the winter resort, even if the guy isn't that pretty. Although, she does draw the line at one-eyed taxi drivers. Check out her intro clip below:
And Nastassia will not have to worry about being a total Swedish Fish-out-of-water among the predominantly American Bachelor Winter Games cast. Her fellow castmate on Sweden's The Bachelor Season 3, Rebecca Carlson, is also part of the new cast. But although they are from the same season, it does not seem like Nastassia and Rebecca really got along super well — it looks like Rebecca's closest friend from the show was the winner Alexandra Nord, and the two of them kind of separated themselves from the rest of the girls. It will be interesting to see how Nastassia and Rebecca interact on Winter Games.
Bachelor Winter Games premieres on Tuesday, Feb. 13 on ABC.