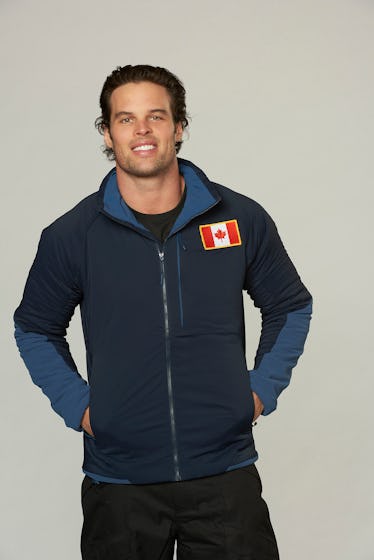 What You Need To Know About Kevin From 'Bachelor Winter Games' Before The Premiere
ABC
The Bachelor Winter Games premiere is less than a week away. And ABC's latest addition to the Bachelor universe of programming isn't just about dating, roses, and Chris Harrison monologues. There will be actual sports involved. It's the perfect storm of reality entertainment — attractive people doing physical challenges while trying to find love. The audience might know some Team USA cast members (Ashley I, Ben Higgins, Dean Unglert, to name a few), but there are also some international participants who aren't as familiar. Who is Kevin on Bachelor Winter Games? The Canadian contestant is piquing Bachelor Nation's interest.
The casting formula forWinter Games seems like an inevitable no brainer for the network. The Bachelor runs in 37 countries across the globe, so it was about time the versions teamed up for a crossover event that worked for not only Bachelor Nation, but Bachelor World. In addition to the US delegation, Switzerland, Japan, Australia, New Zealand, the UK, Sweden, China, and Canada will be represented. Kevin Wendt is one of two Canadian male contestants who will appear on the series. The 33-year-old fireman is one to watch on Winter Games. Um, is that him about to smooch Ashley in the trailer?
He Won the Bachelorette
Kevin's origin story with the storied franchise kicked off when he competed on the inaugural season of Bachelorette Canada in 2016. Leading lady, hairstylist Jasmine Lorimer, picked him over Mikhel Sickand in the finale and he proposed. Unfortunately, the reality duo split just five months following their engagement. Jasmine announced the uncoupling on Instagram, explaining,
There are no hard feelings between the two of us. Kevin is a fantastic person with a huge heart and holds so many incredible qualities. There's no straight forward way to sum this up into one paragraph, but I will never forget what a beautiful year we have shared. Nothing about this has been easy. We appreciate everyone's support.
He Was in the Navy
The Ontario native is a Navy vet who's currently a firefighter living in Toronto.
He's a "Family Man at Heart"
According to a reported Bachelorette bio, Kevin is described as a "family man at heart" who "talks to his mom every day and adores his little niece." We can't dispute that, considering his fam is featured on his social media regularly.
He Stays Seriously Active
Kevin looks like he's in great shape — we're guessing that will come in handy when he competes on Winter Games. Proof of Kevin's devotion to fitness is plastered all over his Instagram. The guy always seems to do something outside — whether its surfing, running, or pushing ridiculously huge weights.
Travel Buff
Kevin's adventurous spirit is also evident. His Instagram is filled with photos from exotic locations and his bio reads: "A man chasing experience."
Will He Find Love on Winter Games?
The first promo for the upcoming series shows a blink-and-you'll-miss-it shot of what does look like Kevin going in for a kiss with Ashley Iaconetti. On the other hand, the trailer ends with Ash crying — what else is new? — while bemoaning, "I don't know why I'm always friend-zoned. I'm so confused." Could she be referring to Kev or someone else? The Ben And Ashley I Almost Famous podcast, which Iaconetti hosts with pal and fellow Winter Games-er Ben Higgins, gave some insight into her romantic future. When Bibiana (who was eliminated from Arie's current season of The Bachelor) was a recent guest, there were hints that she and Ashley may have fallen for the same dude. Hmm.
The Bachelor Winter Games premieres Tuesday, Feb. 13 on ABC. We are so looking forward to meeting fresh faces like Kevin.
Bring. It. On.