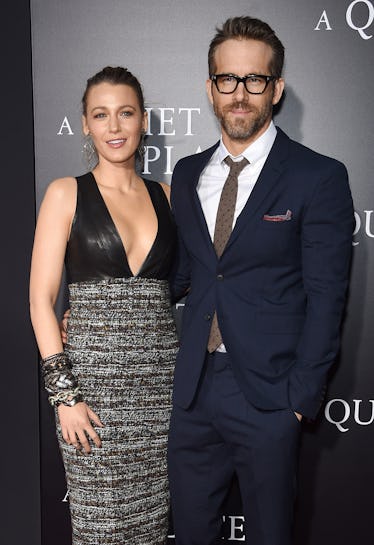 Blake Lively Told Ryan Reynolds She Would Cheat On Him & It's With This Celeb
Jamie McCarthy/Getty Images Entertainment/Getty Images
There are fewer celebrity couples I ship harder than Blake Lively and Ryan Reynolds. They're both drop-dead gorgeous, yes. And they're both wickedly talented, of course. But you can just tell that their marriage is strong, despite how many times the media tries to tell the world otherwise. Whenever there's so much as a hint of a rumor that these two are at odds in their relationship, we always see the two of them cracking jokes about it together, and that just goes to show you that these two are definitely LOLing at home with each other whenever there's ~gossip~ over their marriage. But this time, Lively HERSELF stirred up a little bit of drama (jokingly, of course) about her relationship in, quite literally, the best way possible. And let me tell you, Blake Lively's Instagram about cheating on Ryan Reynolds with Anna Kendrick will have you in tears. God bless you, Mrs. Reynolds, we truly don't know what we did to deserve you.
In case you weren't aware, Lively and Kendrick star together in an eerie upcoming thriller movie, A Simple Favor, which will be hitting theaters September 14, 2018. The movie revolves around the disappearance of Lively's character, Emily, which, if you've been following Blake Lively's Instagram account, you'll remember when she deleted all of her photos and only followed people named Emily Nelson, AKA her character's full name:
Talk about really getting into a role, man.
So Lively took to Instagram once more to post another teaser for the movie, and joked in her caption that co-star Anna Kendrick is the "hotter, female(r) version" of her husband.
Instagram account Comments By Celebs then caught what is probably the best three-way conversation that has ever existed. Lively's caption in full read:
@annakendrick47 is the hotter, female(r) version of my husband... so, would it reaaaally count as cheating?? 🔪👗🍸🎀🖤
Touché, Blake. Touché.
Anna Kendrick wittily replied, "So glad we're finally taking this public. I let Ryan have Deadpool, he can give me this."
LOL, YAS, I'm living for this already.
Then, a clearly defeated Reynolds responded, writing, "The most ambitious crossover event in history. I'll miss you both. Tell my story."
It's almost too good, you guys. It's nice to know that I can always count on Lively's social media presence to give me life.
She's clearly no stranger to poking fun at her ridiculously good-looking husband, and Lively is an expert at taking trolling to new heights, so we should all be taking notes.
Back in December of 2017, Lively took to her Instagram to show off Reynolds, erm, expert attempt at holiday baking. The photo showed a hot mess of sugar cookies in sadly-created shapes and a train wreck of melted frosting. Her not-so-subtle caption showed that she absolutely didn't marry her husband for his baking skills, but hey, at least he's cute:
@vancityreynolds made some Christmas cookies... 😳...He's verrry handsome though.
That comment is the written equivalent of a pat on the back after you lost some kind of childhood game, is it not?
But we know full well that Ryan Reynolds trolls Blake Lively just as much, and we seriously can't help but laugh at these two. Back in March of 2018, the Indian edition of International Business Times (IBT) claimed that Lively and Reynolds were headed toward a divorce because they were struggling to spend "quality time" together. Of course, Reynolds stepped right up to the plate and responded on Twitter, writing, "I wish. I could use a little 'me time'."
I literally couldn't love these two more than I do already.
Ryan and Blake, you are absolutely doing it right, so keep up the good work.