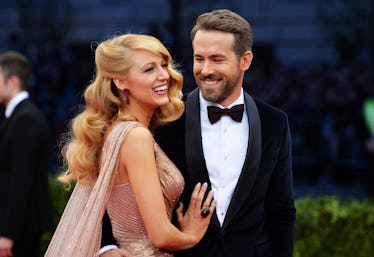 Blake Lively Unfollowed Ryan Reynolds On Instagram & His Reaction Is Everything
Mike Coppola/Getty Images Entertainment/Getty Images
Blake Lively and Ryan Reynolds have one of the best relationships in Hollywood. They're totally devoted to one another and seem to be having the time of their lives being married. Whether they're trolling each other on social media or walking the red carpet, the couple shares some pretty undeniable chemistry. But what happens when they take their jokes too far? Same thing as always: all around hilarity ensues. Such was the case when Blake Lively unfollowed Ryan Reynolds on Instagram. His reaction was way too cute and poked a bit of fun at Lively's social media antics.
In an interview with Australian radio show Smallzy's Surgery, Reynolds talked about his wife unfollowing him on Insta:
I'm very sad about that. Definitely stinks. It's a terrible way to find out that I've been kicked out of the house, to be honest. Absolutely terrible. I don't know where rage like that comes from.
Now, obviously, Lively, 30, wasn't being malicious when she unfollowed Reynolds, 41. She actually unfollowed everyone and she deleted every single one of her posts. While that may seem like a rage-induced tactic or even meltdown-worthy behavior, it's actually not.
So, what's the real reason Lively's Instagram is going haywire? Well, she's prepping for a movie and all these moves are an effort to promote it.
Lively went AWOL on Insta on Monday, April 30, to promote her new movie A Simple Favor. The movie, which is a thriller, features Lively as a woman named Emily. When Emily disappears quite suddenly, her blogger best friend Stephanie (played by Anna Kendrick) seeks to uncover the truth about what happened.
So, basically, Lively is just trolling everyone by following the same arc her character Emily does in the film. Well, at least on social media. It's actually quite a clever move and one that will definitely pique fans' interest in seeing the film.
In keeping with the amusement factor of it all, Reynolds detailed in his radio interview what his daughters would think about their mom unfollowing him on Instagram:
'Mommy unfollowed daddy on Instagram.' My child would just fart and then walk away.
Funny stuff! Lively and Reynolds are mom and dad to two girls — James, who is 3, and Ines, who is just a year old.
Lively and Reynolds, who married in 2012, are often seen poking fun at each other via social media.
From Reynolds joking about the simple joys of their family life...
To Lively trolling Reynolds for Father's Day on Twitter…
Happy Fathers Day!!! ...@vancityreynolds Since the day our baby was born, I've felt so strongly in my heart that you were most likely the father. #ILoveYouSoMuchItsSilly
These two really do love a good laugh at each other's expense. But they're truly the best of pals and show their love for each other every chance they get! In a 2017 interview with Elle, Lively waxed poetic about her relationship with Reynolds:
In other relationships, if something came up, I would call my girlfriends or my sister, and say, 'Hey, this is what he did — what should I do?' Where with him, we were friends for two years before we were ever dating. And I treat him like my girlfriend. I'm like, 'Hey, this happened. It upset me. This is how I feel. What do I do?' And he does the same for me. He treats me like his best buddy.
So cute! It's completely obvious that these two love one another to death and that their crazy social media antics are just an extension of that.
I'm sure Lively will be following Reynolds on Insta again soon! He's just got to wait for that movie to premiere!