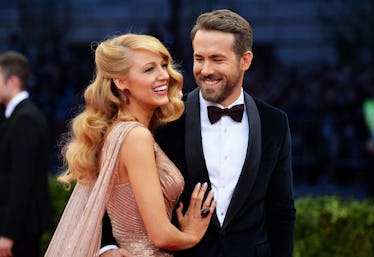 Ryan Reynolds' Tweet Clapped Back To This Rumor About Blake Lively & It Is So Good
Mike Coppola/Getty Images Entertainment/Getty Images
You are probably familiar with Ryan Reynolds and Blake Lively. The couple is pretty much the definition of "relationship goals," and it's their expert-level use of social media that really catapults them into a category beyond any regular Hollywood couple. Seriously, these two bring the laughs, and they are not even afraid to hilariously troll one another. This time, though, Reynolds took aim at a tabloid story. Ryan Reynolds' tweet about rumored problems with Blake Lively hilariously clapped back at any speculation of trouble in paradise.
On Saturday, March 31, Reynolds responded to a claim from the Indian edition of International Business Times (IBT) that Lively and Reynolds were headed toward a divorce because they were struggling to spend "quality time" together. Before IBT India later debunked that rumor in their own article, according to Newshub, Reynolds took to Twitter to expertly respond. Reynold shared the IBT India tweet and wrote, "I wish. I could use a little 'me time'."
Not only did Reynolds shut down the rumor without even mentioning the headline, but he also perfectly shaded them with his sarcasm. I honestly wouldn't expect anything less from Reynolds at this point, though, because he seems to have cemented himself as a trolling master (in the best way possible).
Also, IBT India pretty much set themselves up for the burn from Reynolds when they tagged Reynolds in this tweet claiming his marriage was on rocky ground.
"Deadpool Ryan Reynolds and wife Blake Lively struggling to spend 'quality time'."
"I wish. I could use a little 'me time'."
LOL forever, IBT India. Reynolds is not here for your nonsense.
It appears from Reynolds' reply that the couple is definitely spending enough "quality time" together, and given that they also have two young children (both under the age of three), I bet they could probably each use a little "me time" for themselves.
As for the original claim from IBT India that the two were struggling to spend any time together, Lively told People back in October 2017 that the couple actually plans their schedules to make sure that their time apart is never too long. She explained to the magazine how the family of four travels together when one of them is working on a project. Lively said,
My husband and I don't work at the same time, so we all go together as a family. If we're away as a family, it's never more than for a day. We stay together.
Even though Lively and Reynolds might find themselves exhausted while taking care of two little ones, Reynolds shared on Late Show with David Letterman in February 2015 that the birth of the couple's first daughter, James, helped grow his love toward Lively. He said, according to People, "...when we had that baby, I fell more in love with my wife than I'd ever been in my entire life."
I'd venture a guess that the 2016 birth of their second daughter, Ines, had a similar effect on the couple.
OK, now that you've sufficiently swooned over Reynolds' gushing about his love for Lively (rightly so), it's time to get back to the lighter side of the couple that everyone loves so much.
It should have been evident from the couple's most recent birthday wishes to one another that they're still totally in love, because any relationship that can stand these hilarious trolling birthday shoutouts is one that I believe can stand the test of time.
Reynolds started the Twitter games back in August 2017 when Lively was celebrating her birthday. Reynolds shared a tweet with a photo of him front and center with a mere sliver of Lively's face showing, and he wrote, "Happy Birthday to my amazing wife."
When Reynolds' birthday rolled around in October, Lively proved that she is indeed "amazing" and equally as hilarious. Lively posted a photo of Reynolds with Ryan Gosling, and Gosling was (of course) the focus of the picture as he pointed to Reynolds who barely made the cut in the photo. Lively captioned it, "Happy birthday, baby."
With sweet declarations of love for one another (and troll-worthy birthday posts), there is pretty much no denying these two are made for each other. While I don't really want to read any more rumors about these two splitting up, I kind of can't wait to see how Reynolds will clap back to the next one.