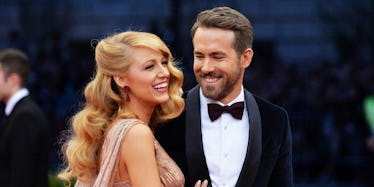 Blake Lively's Birthday Message From Ryan Reynolds Is Missing Something Big
Photo by Mike Coppola/Getty Images
The tangled web of Hollywood relationships is often synonymous with hook-ups, break-ups and did-they-really-just-get-married for-12-days? Few couples have managed to stand the test of time – and those who have, we applaud endlessly. Ryan Reynolds' birthday message to Blake Lively is a recent example of one lasting tinseltown romance we can ALL aspire to emulate (slash feel unjustifiable levels of jealousy about).
Reynolds isn't shy about publicly displaying lots of love and affection for his wife – from the incredibly sweet interview he gave to Humans of New York to that time he called her the Beyoncé of the red carpet. And, I mean, there's really no higher compliment than a Queen Bey comparison.
The actor put aside the mushy-gushy this year to delightfully troll Lively on her 30th birthday. Reynolds tweeted out a glamorous snap of the couple on the red carpet, with half of his wife's body cropped out.
He wrote,
Happy birthday to my amazing wife.
Dawwwww. Romance and declarations of love and companionship are great, but a hilarious social media barb is quite possibly even better. Reynolds MIGHT just be entering the ranks of Chrissy Teigen trolling, which should pretty much be dream ~goals~ for anyone.
Now, don't worry, this isn't a one-sided troll-ing relationship.
Lively actually kind of started the whole thing when she posted an homage to John Legend – NOT RYAN REYNOLDS – at the Time 100 celebration.
I guess the secret Hollywood relationship sauce might be that a couple who laughs together stays together?
Reynolds said on The Conan O'Brian Show that his wife is consistently hilarious – even in the most compromising of situations. He said,
My wife is the real, I mean she is a mercenary. At one point in the middle of the delivery, the doctor's cell phone went off and she said, "Oh no. Go ahead, take a personal call. Feel free." She was cracking jokes in the delivery room.
Incidentally, Reynolds played "Let's Get It On" while Lively was in labor – so really this couple wins at everything.