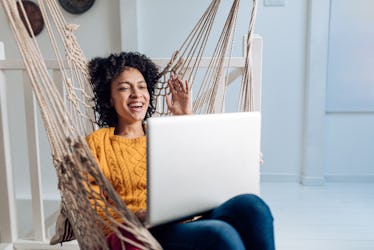 You Can Enjoy All Of These Spring Break Experiences Without Ever Leaving Home
RgStudio/E+/Getty Images
Who says you can't travel this spring break? If you plan on staying home and not spending the week physically at the beach, you can still go on some fun adventures via virtual spring break 2021 experiences that will transport you to places like Cabo San Lucas and Paris. Just think of your computer as a passport for you — and even your besties — to travel the globe, and for a fraction of the cost (or free!). The best part: You don't even need to pack a single suitcase to make it happen.
Since COVID-19 cases are still high, the Centers for Disease Control and Prevention (CDC) continues to ask that you avoid physically traveling when you can. Virtually traveling, however, is 100 percent safe, so the sky is the limit. You just need to decide on the experiences you want to book first, which depends on what spring break vibes you're going for.
If you describe yourself as someone filled with tons of wanderlust, you might want to spend a few hours in Portugal making delicious sangria you can enjoy while lounging on your couch. Or you may want to chill out all week long after attending a virtual meditation experience. You could even put together a totally budget-friendly virtual trip for free with a few YouTube videos, the right snacks, and your friends over Zoom. All of those and more are part of these 10 virtual spring break 2021 experiences. So, get your crew on board, put on your fave sunnies to set the mood, and prepare for a fun-filled week of staying in.