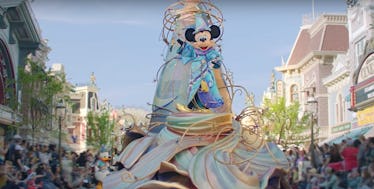 13 Virtual Disney Parades That Will Make You Get Up & Dance
With lovable characters, catchy songs, and gorgeous floats, there's so much to love about a Disney parade. When you see the crowds start gathering on the sidewalks of Main Street, you know it's about to make its way down. Now, with virtual Disney parades available online, you can pretend like you're on Main Street anytime you'd like as you get cozy on your couch.
At the parks, you may need to camp out for a few hours to get a good spot to watch the parade. On the flip side, at home, all you need to do is set up your computer, get comfortable, and press "play." Have an entire virtual Disney day without ever having to deal with big crowds and wait times. Plus, YouTube has a whole collection of Disney parades, so you can enjoy the new ones you've been wanting to see in person, as well as deep dive into the parades you loved as a kid. It's like a one-way ticket to Nostalgia City.
Though, just so we're clear, the songs in these 13 Disney parades will get stuck in your head. So, prepare to find yourself dancing around the kitchen, channeling Mickey Mouse and waving at the crowds.