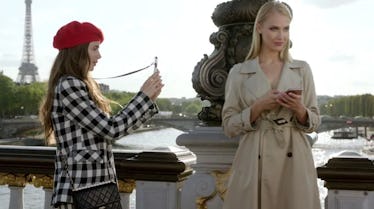 These Virtual Tours Of The 'Emily In Paris' Filming Locations Are So Dreamy
Netflix
You've been dreaming of taking a getaway to Paris ever since you marathon watched Emily in Paris on Netflix. Just like Emily, you want to snap cute selfies while sitting in cafés and grab a bouquet of pink roses on your daily walk through the city. Until you can safely make it overseas to turn that dream into reality, there are virtual tours of Emily in Paris filming locations that you can admire instead.
All from the comforts of your home, you could be wandering museums and landmarks that Emily visited in the show. With online tours and galleries to walkthrough videos on YouTube, it'll be like you're there in real life. The best part of all is that they're totally free, and you don't have to change out of your PJs in order to experience these wonderful sites. However, if you want to really enjoy Paris like Emily, put on your hot pink cardigan and silk neckerchief, and make sure you have a fresh chocolate croissant in hand (and maybe a glass of champagne if you're 21 or over).
Map out your perfect Paris day with any of these Emily in Paris filming locations. They are waiting for you with just a click of a button.