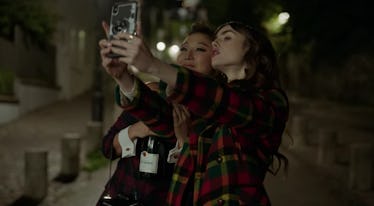 8 'Emily In Paris'-Inspired IG Poses To Take With The Mindy To Your Emily
Netflix
The love triangle in Netflix's Emily in Paris is a hot topic of discussion, but the relationship you're really here for is the friendship between Emily and Mindy. You've watched their adorable girls' night out in Paris scene about a million times. That's where you can find some Emily in Paris Instagram poses for friends that you need to recreate with your best friend right now.
Emily's social media skills are on point. She knows how to creatively capture the moments that need to be remembered, and pairs them with the wittiest captions. That's why her following continues to grow throughout the show. Like Emily, you can rake in a ton of likes on your own Insta by planning a bestie photoshoot.
With your camera, try to recreate these eight Emily in Paris poses. Make sure to put on your cutest #OOTD. (Outfit changes are totally welcome.) Be inspired by Emily's fall coats, silk scarves, and hats for a super chic lewk. Snap a selfie of you and your BFF sharing food, Lady in the Tramp-style, or giving each other piggyback rides. Get a Boomerang of you doing the can-can like you're at the Moulin Rouge, or set up a self-timer for a back-to-back #twinning pose.
After going through your favorite photos from the shoot, post a photo dump with some Emily in Paris captions that are anything but basic.