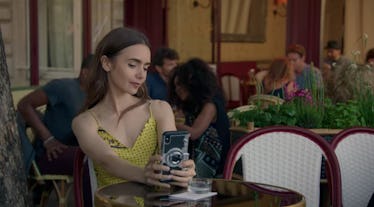 7 'Emily In Paris' Instagram Poses You Can Recreate, Snap, Post, Repeat
Netflix's latest original series, Emily in Paris, will have you daydreaming about living in France, eating chocolate croissants, and falling in love. If you've marathon-watched all 10 episodes, you know Emily (played by Lily Collins) has a wardrobe you wish you had yourself, and a growing Insta account you'd love to emulate. Be excited, because we've put together all the Emily in Paris Instagram poses you can recreate at home.
At the beginning of the series, Emily has a small social media following that continues to grow throughout the show. It's all thanks to her cute snaps and clever captions. Sure, the beautiful Paris backdrop certainly helps, but you can capture similar pics wherever you are right now. It's all about being in the moment. Don't simply snap a picture of your breakfast, but get a cute Boomerang of you taking a big bite. Treat yourself to a fresh bouquet of flowers, and make sure to get a cute selfie while holding them.
If you try any of these seven Emily in Paris Instagram poses, you're sure to capture a pic that's ready to be posted. Add a quote from the series or one of Emily's actual captions that's used in the show. With all the likes you'll get, they might as well hire you at Savoir to be an influencer as well.