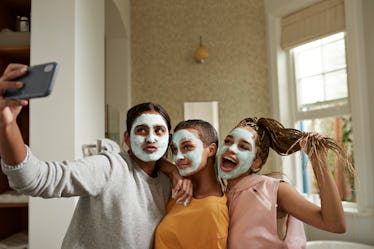 5 Fun Spring Break Activities To Do At Home With Your Roomies
Klaus Vedfelt/DigitalVision/Getty Images
This spring break, you're swapping bathing suits for tie-dye sweatsuits and hunkering down at home with your roommates. You're starting to make up an itinerary, and you want it to include more than just movie nights and pizza. There's plenty of fun to be had, and you need some unique spring break activities to do at home with your roommates.
You don't expect every second to feel like a tropical vacay, but you do know it's possible to have an exhilarating time right at home — especially if you draw inspo from these fun things to do at home for spring break with your roommates. Just because you're adhering to the Centers for Disease Control and Prevention's (CDC) safety guidelines, that doesn't mean you can't make some new memories. The guidelines state that travel should be postponed in order to protect yourself and others from contracting and/or spreading the coronavirus. From exploring a new yoga flow to learning how to roller skate, your Instagram feed will reflect the awesome time you had this break without having to hop on an airplane.
As much as you love a good trip, spending quality time with your roommates at home can be a blast. Plus, spring break at home means you get to hang in your favorite sweatsuit and do these five fun things with your pals.