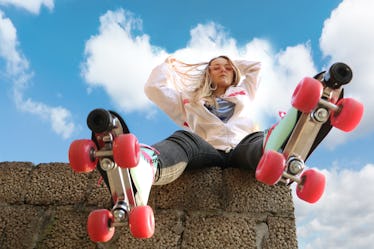 10 Roller Skating Videos On TikTok That'll Make You Want To Get A Pair
Marina Vaisla / EyeEm/EyeEm/Getty Images
If you're looking to get into a new hobby this summer, open your TikTok app and start scrolling. This app is filled with activities you can try, from tie-dying to electrifying dances you can learn that'll ultimately make you feel ready for the stage. When you're swiping and watching the greatest trends to be a part of, you'll likely find roller skating videos on TikTok as well that'll make you want to get a pair yourself.
Seeing users coast around their neighborhoods and do fancy tricks in a driveway may make you think, "I wonder if I could do that." You may put on "Dreams" by Fleetwood Mac, while online shopping for skates with a set of hot pink wheels or a retro design on the side. You may even start thinking of photo shoot or video ideas you can recreate once your new skates come in and you become a #pro.
These videos on TikTok of people skating and sharing their best tips — like making the most of your toe stop — just have that effect. They're so easy to get lost in and will likely inspire you to get in on the active and sporty trend. What are you waiting for? These videos, good vibes, and a new hobby await.