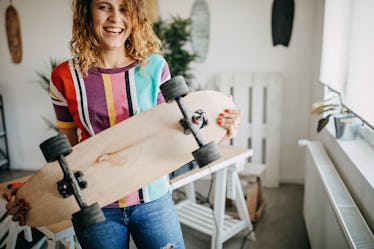 The New Hobby You Should Pick Up This Summer, Based On Your Zodiac Sign
eclipse_images/E+/Getty Images
The year 2020 has probably been a lot different than what you expected it to be. When you wrote down your resolutions back in January, you likely didn't think you'd be learning how to bake bread, hosting virtual parties for your friends, or spending a majority of your time at home. But, this extended period of time at home allows you to delve into projects you may have put on the back-burner, and try new things. The new hobby to pick up in summer 2020, in particular, is based on your zodiac sign and will add another exciting aspect to your year.
This hobby won't just keep you busy for months on end. It may also be a welcoming addition to your life. It may help you realize your passions or develop skills you can use in your personal or professional life. It may also let you make some money on the side or connect with people who have really similar interests to you.
Of course, to get the most out of these hobbies, you need to be open to them. You need to say "yes" to the new ingredients you may try in the kitchen. You must also realize that a new hobby is not about perfection, it's about pleasure. So without further ado, here's the new hobby you should embrace this summer, based on your zodiac sign.