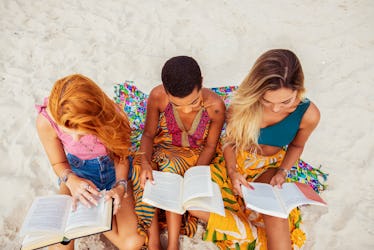 You'll Want To Curl Up With These 15 Summer Reads In Your Backyard
DaniloAndjus/E+/Getty Images
If you're sitting in your backyard and looking up at the clouds right now, you may be thinking to yourself, "Wow, I'm bored." When you first put a blanket down and decided to watch the cotton candy-like objects pass by, it may have been calming. But the wanderlust in your brain is so real, and you're thinking you'd rather delve into the best summer reads 2020 while comfortably laying in the grass or sand.
TBH, books can wrap you up in a different world, and make you feel like you're trotting the globe. They can grab a hold of your brain, as they tell the page-turning story of a woman who's finding herself or the sweet one of a couple who's destined to be together. They can give you much-needed advice, and teach you what it's like to walk in someone else's shoes. Pick one up and you can feel your brain expand with inspiration, emotion, or sweet information.
In that way, finding a novel, memoir, or self-help book to read is similar to picking out a destination to go to — except without the planning and expensive plane tickets. When you're reading the blurb on the cover it's as if you're taking notes of what excursions you may go on, while curled up in your backyard. Here's 15 of the best summer reads for 2020 that'll be everything you're looking for. Boredom, who?