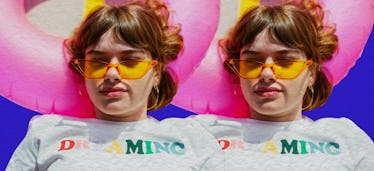 Feel Like You're On A #Vacay At Home By Doing These 8 Easy, Fun Things
Stocksy
When you don't have anywhere to go or sights to see, it's easy for the wanderlust to set in. You might post pics from an old trip, or "just look" at the price of plane tickets and cool accommodations. Here's the deal: You can make your travel bug chill out by knowing how to feel like you're on a vacation at home and planning certain activities for yourself.
The best part? Most of these activities can be done with the items you already have in your home. You don't necessarily need to go to a store or plan out a hefty itinerary that requires you to be at certain places at certain times. Unlike some of the experiences you've had in the most stunning spots around the globe, you won't need to call ahead to make a reservation for a lounge chair or sit in a seat with very little leg room for up to eight hours in order to reach your destination, either.
In that way, these activities are filled with relaxation bliss. They're like an all-inclusive resort or a beautiful sunset setting over the ocean. Try them out this weekend with your people and feel like you're on a #vacay at home.