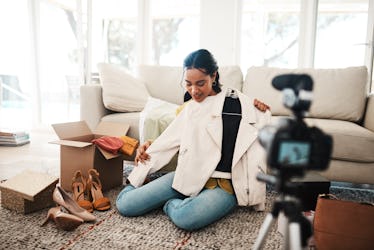 Here Are The Best IG Presets For Indoor Pictures & Getting Creative At Home
PeopleImages/E+/Getty Images
Getting creative at home is easier than you may think. It can start with a picture of your #outfitoftheday taken in your vintage-looking mirror, or a selfie with the colorful breakfast you just made. It can be as ~extra~ as you want it to be — meaning, you could pull out your digital camera and have a photo shoot with the flowers on your kitchen counter, or take a few simple pics of your latest clothing haul and apply some of the best Instagram presets for pictures at home to the well-lit ones.
It's really up to you to tap into your artsy side and see where the flow of inspiration takes you. Will you find yourself spending an afternoon with your pup and capturing every little sprint they do across your backyard on film? Will you quickly angle your lens at your morning coffee, before grabbing your laptop and signing onto work for the day? Nobody knows yet, but you can best believe the right filter will make those moments as dreamy as the sky right after the sun sets.
Each preset when applied will mellow out the yellows in your walls, and make your raspberry-toned lipstick pop. They'll brighten up your space, or give it a cozy atmosphere. You'll want to keep being creative at home after working with them in Adobe Lightroom on your desktop or phone. Here are the eight best presets for your indoor pics to purchase RN.