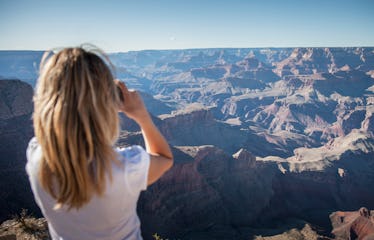 10 National Parks You Can Tour Virtually When You're In The Great Indoors
Buena Vista Images/Photodisc/Getty Images
Exploring the great outdoors might not be an option for you at all times. That's OK. There will likely be opportunities down the road for you to go to the national parks and see the red rock, desert landscapes, and sweet cactuses for yourself. In the meantime, you can log onto your laptop and go on virtual tours of national parks.
Spoiler alert: Exploring the great indoors has never been so good. Unlike actually going to the national parks, these tours let you experience huge mountains and dreamy hiking trails from the comfort of your couch. They don't require you to pack a backpack with essentials like a reusable water bottle, an extra pair of sneakers, and protein-filled granola bars. It may be in your best interest to have snacks by your side while you click yourself down the dirt paths. But, that's entirely up to you.
It's also up to you which park you want to explore. There are a variety of national parks on Google Earth you can tap through, each with unique trees, rock formations, and more. Some will take you out west to states like Utah or Arizona, and others will bring you to the otherworldly atmospheres of Alaska. Grab your laptop and check out these 10 national parks, in particular, from your spot in the great indoors.