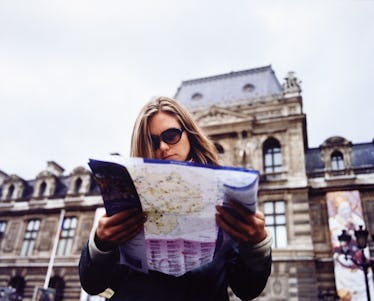 You Can Tour The Louvre & 7 More Museums Without Leaving Your Couch
Sean De Burca/The Image Bank/Getty Images
Seeing the world is easier nowadays thanks to technology. There are the apps that help you plan out your next road trip or locate the tastiest and highly-rated eateries in the area. Most notably, though, there are tons of virtual museum tours online that'll let you see the greatest masterpieces of all time from the comfort of your couch.
It might seem too good to be true, especially when you're stuck at home with lots of boredom and wanderlust. But, these tours actually exist and take you through the artsy hallways of museums around the world. They give you a chance to gaze at paintings and sculptures, and not worry if you're standing in anyone's way. Whether you're wandering in the Egyptian antiquities exhibits, or staring at the details in a piece by Monet, you don't have to wonder, "Should I give someone else a turn?" or feel rushed.
These tours — which are totally free, by the way — are made for seeing the sights on your own time, and enjoying iconic pieces of culture from the comfort of your couch. Find a museum you've been wanting to tour, and launch its virtual tours right away. It may just cure your wanderlust and boredom.