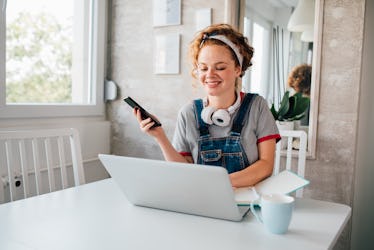 9 Of The Best Lifestyle Podcasts To Stream When You're Chilling At Home
RgStudio/E+/Getty Images
If you haven't hopped on the podcast bandwagon yet, well, what are you waiting for? Listening to your favorite influencers talk about their go-to products, and interviews from former contestants on The Bachelor is a truly great way to spend an afternoon at home. Whether you're chilling on the couch, cleaning your apartment, or working out in your living room, the best lifestyle podcasts to listen to at home will keep you so entertained, motivated, and dialed into the latest trends.
Not to mention, some episodes will make you feel like you're listening to your best friends talk about life, friendships, and the super embarrassing stories they've racked up over the years. When the hosts are chatting on the air about the first time they got their period or reading DMs and the hilarious stories guests sent in, you'll instantly start laughing or thinking to yourself, "Same."
Some podcasts dish more on relationships and what it's like to date in the modern world. Others aim to give you book suggestions and steps to add into your skincare routine. Here are the nine of the best ones you need to tune into when you're chilling at home, for all things related to lifestyle.