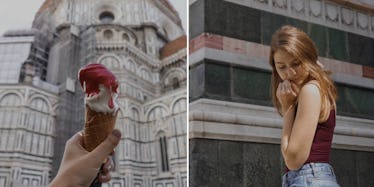 8 Secret Spots In Florence Every Study Abroad Student Needs To Know About
Take me back to my semester in Florence. Yes, it's been three years and I'm still talking about those autumn months living in the most beautiful city in the world (in my personal opinion). From the cappuccinos and fresh croissants, to the street art tucked into every corner, this place is serious competition to the more touristy areas throughout the country. But, you should know about a few secret spots in Florence, because studying abroad is the adventure of a lifetime.
You're not just a girl who's visiting for a few days and then jet-setting off to the coast. Going to school and staying in a rustic apartment in this city makes you feel like one of the locals. You're dodging travelers and their selfie sticks on your walk to class, and already know of a few divine gelato shops with homemade cones. In the afternoons, you stop for groceries at the local market, and you've come to love the routine of taking your shot of espresso at the counter. Let's be honest: You could stay here and live this lifestyle forever. (Sorry, mom!)
So far, you've found a few secret spots of your own. But, you're always on the hunt and exploring for more restaurants, markets, and views of the skyline. Here are eight hidden gems you won't want to miss.