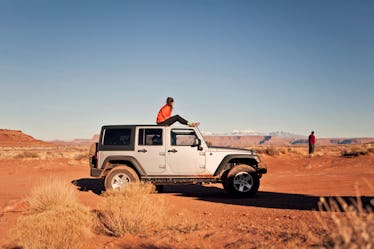 8 National Parks You Never Knew You Needed To Visit, But Should This Spring
Chris Bennett/Aurora Open/Getty Images
The spring weather might have you itching to get outdoors. You may be taking your lunch breaks on the roof of your building, and going on long walks to get an extra dose of sunshine. Take it up a notch by planning a getaway to geysers, green mountains, and gorgeous views. There are national parks to visit in the spring that'll satisfy your blooming wanderlust and desire to explore. Hiking boots, a nice camera, sunscreen, and a reusable water bottle? Required.
Of course, there are the well-known national parks you can always visit like Zion, Yellowstone, Yosemite, Joshua Tree, Bryce Canyon, Acadia, or the Grand Canyon. They're likely already on your bucket list, too. The national parks you should consider checking out in the upcoming months, though, aren't necessarily the most popular and jam-packed ones. They're the parks that'll treat you to serene hikes or coral reefs, and make you wonder, "Is this experience real life?"
Let's get ahead of that moment: Yes, it is. These experiences filled with wonder will inspire you to book more trips amongst the trees and wildlife, too. Here are the eight national parks you should visit in the spring that you never knew you needed, wanted, or would love so much.