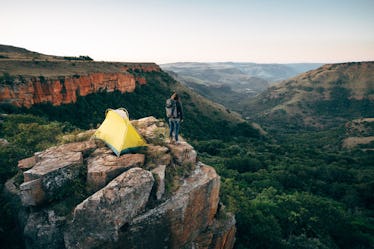 Cliff Camping Is A Real Thing That Any Thrill-Seeker Should Try At Least Once
What's the most adventurous thing you've ever done before? Have you ever considered sky-diving or bungee jumping? I think we all dream of stepping outside of our comfort zone every now and then, but some of us prefer to jump right out of it. If you consider yourself to be a thrill-seeker, then you're always down for a fun adventure. You love challenging yourself and going to new lengths, despite any fears you may have. If this sounds like you, then you might want to test out one of the best places for cliff camping. Yes, you heard that right! Cliff camping is a real thing for adventurous travelers who love to live life on the ledge.
Life is short, right? So, why not seek new adventures? It makes you feel alive and lets you come face-to-face with your fears in the most real way. There are certain things that every adventurous soul must try at least once. If you really want to experience something new, then cliff camping should be on your bucket list. You'll walk away feeling like you're on top of the world. This experience will give you the pictures of a lifetime, along with extraordinary memories and a new appreciation of the world around you, so go forth and conquer.