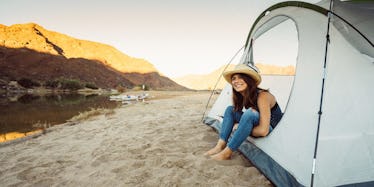 Here's Where You Should Go Camping This Summer, Based On Your Zodiac Sign
Micky Wiswedel
Your summer isn't complete without at least one camping trip.
I don't care if you don't think you're a "woods" person. There's a camping experience out there that's perfect for you.
That being said, picking a location in a country full of prime camping spots can be more challenging than actually pitching a tent. As an avid camper myself, I would know.
Lucky for you, I've come up with a foolproof way to skip the struggle of picking the best place for the best summer camping trip. Because this is the year you're actually going to go with your friends instead of just talking about it. No excuses, people.
What's my foolproof method? Why, picking a spot based on your zodiac sign, of course. Here's what the stars recommend for your camping trip this year:
Capricorn (December 22 – January 19)
Capricorns are fiercely independent and don't like to make themselves vulnerable. You're extremely determined and love to plan, so you would easily put the finishing touches on any trip.
For the patient and organized Capricorn, camping near Arches National Park in Moab, Utah would make an excellent choice this summer. Arches National park has over 76,000 acres of incredible natural rock formations (mostly arches, obviously) that are easily accessible.
Covering the entire park in a short amount of time is definitely ambitious, making it the perfect challenge for a Capricorn. But to ease some of the worry wart signs you may also be vacationing with (hello, Scorpios!), Arches National park also offers a level of safety other parks don't; the hikes are short and it's difficult to wander off and get lost.
Aquarius (January 20 – February 18)
Aquarius people love dreaming, thinking out of the box and doing something different. You're imaginative, adventurous and free-spirited.
One of the most underrated and remote places to camp in America is Big Bend National Park in south-east Texas. The river, mountains, thick forests and a thorny desert all in one will satisfy an Aquarius' hunger for adventure. And what better place is there for dreaming and thinking than one of America's most beautiful national parks?
Pisces (February 19 – March 20)
For the relaxed and almost lazy Pisces, camping might seem too laborious to be worth it. Enter: car camping.
Car camping is the best for people like Pisces, who don't want to rough it but still want to enjoy the great outdoors. All you have to do is drive to your site, pitch a tent and roll out your sleeping bags. Everything else you need is like, 3 feet away from you in the trunk of your car.
Not sure where to car camp? Check this list to see if any of America's top 100 campgrounds are in your state.
Aries (March 20 – April 19)
Over-achieving and confident Aries needs more of a challenge when it comes to camping. That's why the Grand Canyon is the perfect spot for the most active sign in the zodiac.
To camp in this iconic national park, you need determination. Especially because getting one of the limited camping sites in the park is difficult. But a little bit of planning ahead wouldn't stop an Aries from camping in this inspiring location.
Taurus (April 20 – May 20)
Taurus are reliable, ambitious and independent, making them great campers-- until you're challenged of course. Since Taurus are known to be stubborn and hard, like rocks, I'm going to recommend you check out Jumbo Rocks in Joshua Tree National Park for a camping trip.
Jumbo Rocks campground is beautiful, but not too rugged. Each site has a fire pit and grill, and apparently, the bathrooms aren't bad either. Since Taurus also appreciates comfortable accommodations, Jumbo Rocks is the perfect amount of outdoor appreciation for first-time campers.
Gemini (May 21 – June 20)
Geminis are the social butterfly of the zodiac and probably wouldn't thrive on their own, away from civilization. You're at your best in bustling environments, which is why festival camping is the perfect "escape." Also, Geminis probably need access to WiFi, or at the very least cell service, at all times.
At festivals like Firefly,where camping is part of the experience, Geminis can make a ton of new friends while discovering new music. Geminis definitely won't get bored with all of the sensory stimulation going on at these events.
Cancer (June 21 – July 22)
Cancers love to stay as close to home as possible, which is why you would have the most fun camping in their own backyard. You're also known to be spontaneous and creative, making backyard camping the best option when the urge to sleep outside strikes at any given moment this summer.
Cancers will have an excellent time roasting marshmallows in a fire pit right next to the house. You could easily try to make any of these incredible s'mores recipes too, with your kitchen right there. I guess having to go to the bathroom outside would be optional, which is always a plus.
Leo (July 23 – August 22)
Leos know how to enjoy life -- and "bedazzle" it, if you will. Charismatic and larger than life Leos must give glamping a go this summer. Yep, just like the Kardashians did.
Glamping involves all the fun of regular camping, without the sleeping on the ground in a 30-year-old tent. Not that there's anything wrong with that; it's just not a Leo camper's jam. Here are some of the best glamping locations in the US.
Virgo (August 24 – September 22)
Virgos are analytical and practical. You love to get into research and organize anything you can get your hands on. Glacier Bay National Park in Alaska would satisfy an inquisitive Virgo's camping needs.
Yeah, it might be a little chilly, but it has an incredible amount of wildlife. In the park, Virgos can check out brown bears, mountain goats, moose, seals, bald eagles, killer whales and much more.
Libra (September 23 – October 22)
The gentle and harmonious Libra camper needs to camp in a beautiful location that gets those creative juices flowing. The Adirondacks in upstate New York definitely fit the bill.
Because Libras tend to have a wide range of hobbies, this region of New York would be perfect.  There's an endless amount of outdoorsy activities to do there, like canoeing, hiking, swimming and biking. Or just laying around by the campsite. Whatever you want, Libra. Sometimes just gathering scenery for the perfect Instagram is enough to keep you inspired for weeks.
Scorpio (October 23 – November 21)
Scorpios are strong and resourceful AF, so wandering around in the woods wouldn't faze you. That's why Scorpios should definitely hit up the White Mountains in New Hampshire for a camping trip this summer. You can rough it.
The White Mountains offer both strenuous hikes and easy walks within its unbelievable mountainous terrain. The thoughtful and ambitious Scorpio would definitely love pitching a tent and getting lost (on purpose!) in these lush woods.
Sagittarius (November 22 – December 21)
Curious and restless Sagittarius folk need more of a challenge when it comes to camping. You love to travel and are super philosophical.
Yosemite National Park in California is the perfect setting for Sags to wander while contemplating life's mysteries. A camping trip at Yosemite could include seeing beautiful waterfalls or even hiking the infamous Half Dome. Sagittarius love change, and in Yosemite, you won't be seeing the same incredible features twice.
There you have it. Summer is the perfect time to get your hands dirty, and there's no excuse for missing out on the incredible memories camping has to offer. Now get outside and pitch a tent in one of these phenomenal camping locations. There's nothing like seeing stars while appreciating the star signs among us, am I right?