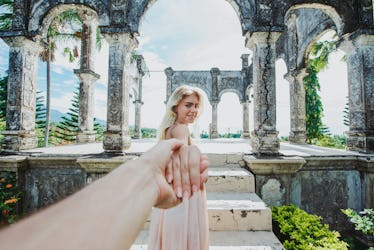 11 Spring Break Trips To Take With Your SO When You're Out Of College
Fabio Formaggio / EyeEm/EyeEm/Getty Images
Spring break isn't just for college students. It can be for the hardworking people in the "real world," too, who simply need a break and some quality time with the ones they love. If you're finding yourself in this boat right now, cash in some PTO time and plan one of these spring break trips to take with your partner.
When you're sitting on a stunning beach on the other side of the world, or eating fresh pineapple in a pool with your partner, you won't second guess your decision to ditch your endless meetings and coffee runs. As a matter of fact, you probably won't even think about what's going on back in your city, because you'll be totally immersed in luxe sunset dinners and quality ocean views. The only thing on your mind will be what major bucket list item you're going to check off tomorrow with bae by your side.
You wouldn't dream of going on a little getaway without them. They're your favorite travel buddy, whether you're heading on an international vacay or a spontaneous spring break trip. Here are the 11 trips you should plan with your partner right now — even though you're out of college.