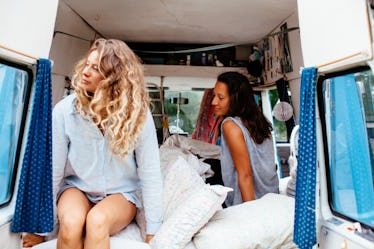 12 Essentials Your Backyard Camping Trip Needs For S'more Fun In The Sun
Counter/Photodisc/Getty Images
When the sun is shining on a summer day, your first thought may be to grab your blow-up pool and set it up in your backyard, or make mint lemonade in your kitchen. You may whole-heartedly decide to spend time outdoors, listening to jams from the '90s, reading books and magazine features, and slathering sunscreen on your skin. Do you know how to go camping in your backyard? If you're looking to make cool mems or have new experiences at home this summer, you should definitely go on s'more adventures that require a tent and pack of marshmallows.
There's nothing like falling asleep beneath the night sky, or waking up to the freshest air in the morning. Listening to the birds chirp and the bees buzz in the nearby trees can really calm your heart and soul. It can make you feel like you're a kid again, when you're playing frisbee at 10 a.m. and telling ghost stories at 10 p.m. Not to mention, wandering into a patch of grass and starting up your fire pit can make you feel like you're traveling the world, even if you're steps away from your back door.
The best part? You don't need a passport, plane ticket, or a road map — detailing the most convenient routes to get to a national park. Camping in your backyard just requires having specialty supplies on hand, as well as songs to sing around a campfire. Here's what you need to have s'more adventures this summer.