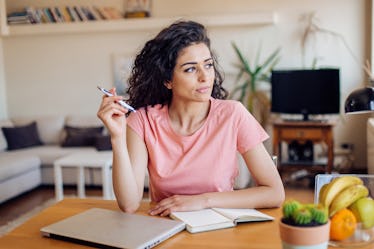 These Daily Journals Have Little Prompts To Help You Practice Gratitude
RgStudio/E+/Getty Images
Practicing gratitude can become part of your daily routine if you have one of these adorable and inspiring journals with prompts by your side. These journals can help you kickstart your gratitude practice, and might bring more good vibes into your life.
With a journal, you can jot down what relaxing things you did that day, what you're looking forward to, and what meals you truly enjoyed in the company of your significant other or by yourself. You can reflect on how it felt to accomplish a certain task on your to-do list, or try out a new fitness app during a free afternoon. You can even put down on paper anything you're looking forward to or want to do differently.
You may find that you love writing in these journals before going to bed, because it allows you to chill out and have a more restful sleep. You may find that you want to quickly write down three things you're grateful for in the morning before logging onto work and tackling the day. There's a prompted journal for you, no matter what your gratefulness goals are. If you're in the market for one, start with the eight listed below.