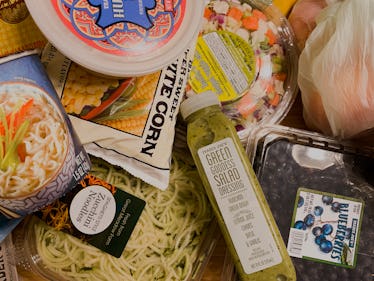 The Trader Joe's Snack You Should Try Next, Based On Your Zodiac Sign
If you dream about going to Trader Joe's to pick up seasoned kale chips, buffalo chicken hummus, or fresh zucchini noodles, you're not alone. The grocery store known for its specialty snacks and jam-packed shelves of organic goods is a paradise for foodies. What you may not know, though — no matter how many times you've walked down the freezer aisles looking for the gnocchi — is the Trader Joe's snack you should try, based on your zodiac sign.
That's right: The decision of whether you should pick up the Everything But the Bagel Seasoning nuts or the cold brew latte dessert bars is in the hands of the stars. In the past, they've been fearless in leading you to the telling facts, such as revealing what your most compatible traits are, and what Animal Crossing character you most resemble IRL. Now, they're aligning once again to guide you through your favorite store, and to the treats you'll instantly adore. Be sure to take their suggestions by tossing green goddess dressing into your cart, or looking up recipes that involve a cinnamon bun spread.
TBH, sometimes mixing Trader Joe's snacks and specialty items with the other ingredients in your kitchen can be the best way to enjoy them. For now, though, simply look into the snack you should try, according to the stars.