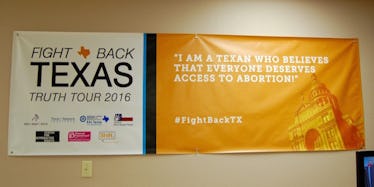 Women Now Have To Bury Their Aborted Fetuses, Thanks To Devastating New Law
Texas women now face yet another barrier to abortion access. Fetal remains will have to be buried or cremated starting on December 19, state health officials confirmed on Monday.
Health care facilities are responsible for arranging and paying for the burials or cremations of fetal remains. The state clarified this does not apply to miscarried fetal remains, just aborted ones.
An overwhelming majority of abortions occur early in a pregnancy, meaning these remains are generally smaller than a peapod.
If you ask me, this is a grossly manipulative law that attempts to restrict women's legal access to abortion in several ways.
The fact that only aborted fetal remains are covered means this is a law targeted at abortion. Had miscarried fetal remains also been included, you could've made the argument it's about proper disposal.
But because they're not, this is clearly a law about abortion.
The cremation/burial requirement is emotionally manipulative as it attempts to make fetal remains be seen as people -- as beings that should be given proper resting places. That's one way to try and convince women to not get abortions.
That strategy also makes people not getting abortions think of fetal remains as people, meaning they would be less supportive of laws opening access to the health care procedure.
Putting the responsibility on the health care facilities means they have something else to deal with. As we saw in the Supreme Court case Whole Woman's Health v. Hellerstedt this year, facilities are vulnerable and targeting them can limit women's access to abortion.
The law also restricts fetal remains from being used for research.
Similar laws have been proposed in other states.
Mike Pence, vice president-elect to Donald Trump, signed a gigantic abortion-restricting law as governor of Indiana in March. That law included a measure for cremations or burials of fetal remains.
Other states that have considered this requirement include Louisiana and Ohio.
The cremation/burial requirement was immediately challenged in court in Indiana and Louisiana. The Indiana measure was suspended by a federal judge in July.
This was supposed to be a relatively good year for Texas women.
About one year ago, the Supreme Court took on the case Whole Woman's Health v. Hellerstedt. That case concerned new state laws that would cause clinics across the state to shut down, going from 40 clinics to just eight or nine.
Women were forced to travel out of state to get abortions with the clinic closures. That created a financial barrier that kept many women from being able to access safe and legal abortion services.
The Supreme Court heard the case in March. There, the female justices called out the laws' bullshit.
In June, the Supreme Court announced they sided with Whole Woman's Health and struck down the laws, saying they put an undue burden on women seeking abortions.
This decision led to a host of abortion-restricting laws in other states to get struck down in July.
But damage had already been done to the state of abortion access in Texas. And now lawmakers are seeing what else they can do.
This is extra troubling with America's incoming administration.
Trump and especially Pence are anti-abortion and have said they will implement abortion-restricting policies.
Trump will be able to nominate a Supreme Court justice and said he would nominate a pro-life one so fewer women can access a safe and legal medical procedure. So we're losing that guard as the court will likely tip conservative.
They will not repeal the Hyde Amendment, which creates a financial barrier for poor women and federal employees to the safe and legal medical procedure.
There's a question of birth control coverage from the Affordable Care Act, especially with Trump's pick for secretary of health and human services.
And so the abortion-restricting laws continue on from state to state across the country.
On a completely unrelated note, today is Giving Tuesday.
Citations: Texas Tribune, The Atlantic