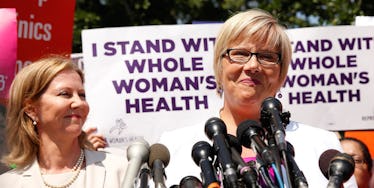 These 7 States Have Already Made Major Changes Since The SCOTUS Abortion Case
REUTERS
The Supreme Court made their decision in a landmark abortion case on Monday.
The court sided with Whole Woman's Health and opened up access to abortion. The case concerned Texas's House Bill 2 which said that abortion providers had to have hospital admitting privileges and meet the requirements of an ambulatory surgical center. The Supreme Court ruled that neither of these measures can stand in Texas, especially since they do not have medical evidence of being necessary.
What those requirements did do was force more than half of the state's abortion clinics to close over the last three years, leaving women across Texas with limited access to abortions. Now, however, providers have the opportunity to rebuild.
More than half of America's states have threatened abortion access this year alone with their own laws. But thanks to the Supreme Court precedent, many of these laws are being rejected.
There are still many, many barriers in the way to free access to reproductive health care, and more will continue to appear. But this is definitely a winning week for reproductive rights advocates.
After a decade of increasing laws restricting access, it feels really strange to say this, but it's actually been a positive week bringing down barriers.
Here's everything that's gone down since Monday.
The Supreme Court issued three more rulings on Tuesday.
First, they declined to hear a case that would challenge a Washington state law.
All pharmacies in Washington must provide Plan B and other emergency contraceptives.
Religious pharmacies wanted to challenge that order to say that if you are a pharmacy with moral, religious objections to emergency contraceptives, you shouldn't have to provide them. The Supreme Court said nope to that logic.
The Supreme Court then refused to hear two more cases. Mississippi and Wisconsin wanted to require abortion providers to have hospital admitting privileges, like the Texas law. Again, the Supreme Court was like nope.
The Supreme Court rejected cases from Mississippi and Wisconsin for hospital admitting privileges.
Seeing these Supreme Court rulings, Alabama stood down.
State Attorney General Luther Strange said on Monday that he would drop a case for Alabama's own hospital admitting privileges law. So boy, bye to that restriction in Alabama.
Alabama dropped a case for their own hospital admitting privileges requirement.
And then Planned Parenthood got money in New Hampshire.
New Hampshire cut off funding for Planned Parenthood last year.
But this year, Executive Councilor Chris Sununu, a Republican, swung in favor of funding Planned Parenthood on Wednesday. Hillary Clinton penned an op-ed in favor of Planned Parenthood.
Planned Parenthood is now being funded in New Hampshire.
The fun didn't stop there. Indiana peeled back part of a massive abortion-restricting law.
A day before it was set to go into effect, a federal judge stopped two measures. The big one was a ban on women seeking abortions based on genetic anomalies, race or gender.
Women in Indiana can still get abortions based on disabilities and genetic anomalies.
The second blocked measure was that all fetal remains must be buried or cremated, which is a morally manipulative law if I've ever seen one, especially given that most aborted fetal remains are smaller than a peapod.
Just hours before it was set to go into effect, a judge blocked abortion restrictions in Florida.
The judge blocked restrictions that said that state funding cannot go to organizations that provide abortions and that added new inspection requirements for clinics. This law basically targeted funding for Planned Parenthood (and would've blocked funding for things like pap smears and STD tests. Cool, guys.).
Florida cannot bar funds from organizations that also provide abortions.
The judge based this ruling on the fact that "the government cannot indirectly try to stop an activity that is legally allowed," according to the Associated Press.
This was just the start of barriers to reproductive health being peeled back.
It's possible that more laws will be struck down in coming months as courts use the Supreme Court's Whole Woman's Health v. Hellerstedt ruling as precedent.
Women's health advocates are already beginning the push for that. The Center for Reproductive Rights filed a lawsuit on Friday against the seven new abortion restrictions Louisiana passed this year.
The Center for Reproductive Rights is challenging Louisiana's seven new abortion-restricting laws.
This includes a 72 hour waiting period and a ban on the D&E method of second-trimester abortion, which is the most common form of that procedure.
Planned Parenthood is also campaigning against various abortion laws in eight states.
Those states include Arizona, Florida, Michigan, Missouri, Pennsylvania, Tennessee, Virginia and Texas.
After years of being pushed, women's health advocates now have some serious legal footing to push back.
Citations: Associated Press, Reuters, Morning Consult, WMUR, New York Times, The Atlantic, The Atlantic, Associated Press