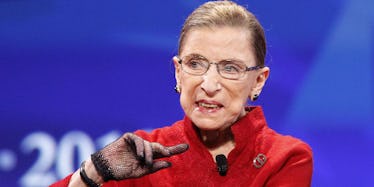 This Ruth Bader Ginsburg Quote About The Abortion Case Deserves A Mic Drop
REUTERS
The Supreme Court announced its decision on Whole Woman's Health v. Hellerstedt, the biggest abortion case in decades, on Monday.
It sided with Whole Woman's Health, striking down Texas's HB 2 law that said abortion providers had to have hospital-admitting privileges and meet the requirements of an ambulatory surgical center -- neither of which are necessary for the safe procedure.
"the virtual absence of any health benefit" #SCOTUS #StopTheSham #KeepClinicsOpen #WholeWomansHealth pic.twitter.com/E2BMzf7cQ6 — Alexandra Svokos (@asvokos) June 27, 2016
As she did during the case arguments back in March, Supreme Court Justice Ruth Bader Ginsburg stood up for women in the decision on this case.
Justice Stephen Breyer wrote the opinion siding with Whole Woman's Health, but RBG added her own page-long concurrence, just to make it totally clear.
HB 2 was ostensibly put in place to protect women's health, but the requirements only served to shut down more than half of Texas's abortion clinics without really making the procedure safer.
In her concurrence, Ginsburg asserts HB 2's requirements are medically unnecessary. She points out the medical evidence that abortion is a safe procedure, especially when compared to something like childbirth or colonoscopies, which don't face similar harsh requirements.
Ginsburg dropped the mic, saying,
Given those realities, it is beyond rational belief that H. B. 2 could genuinely protect the health of women, and certain that the law 'would simply make it more difficult for them to obtain abortions.'
We have to start using the phrase "beyond rational belief" more. That's some fire.