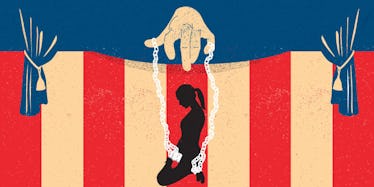 The Supreme Court Saved Abortion Access, But The Damage Has Already Been Done
Robert Rodriguez
I got lost on the way to the Alamo, missed a turn and ended up in front of St. Joseph Catholic Church.
I was raised Christian and the massive Gothic Revival building was gorgeously appealing. I went inside. I kneeled in the aisle, just like my mother, made the sign of the cross and sat down.
A woman wearing a veil kneeling in a front pew sang for mercy while a recording of a choir played over the speakers. The voices echoed, pleading for mercy, mercy, mercy.
I started to pray. I prayed for my safety. I prayed for the safety of the caretakers I was in San Antonio to visit. I prayed for the safety of the women they serve.
I made the sign of the cross. Then I walked to the back of the church and picked up a flyer asking me to pray for life, with a picture of a baby on the front.
I did eventually make it to the Alamo, the old compound filled with signs about a group of men who fought for freedom there. But freedom for whom? And how much of it?
The structure was much smaller than I'd been led to believe.
The second most populated city in Texas feels like drunken Disney at its downtown tourist core, complete with river barge rides and colorful signs. It's Disney as a real metropolis filled with economic diversity and people working for a living.
But if you look beyond the River Walk, San Antonio is perched right on the edge of the fight for access to abortion in Texas -- and across most of the United States.
If you were to roughly cut Texas in half, with equal sides to the east and west, you'd cut through San Antonio.
There are no abortion clinics between San Antonio and McAllen -- as far south as you can get in the massive state. That's 250 miles (a four-hour drive) without a clinic. Between San Antonio and El Paso -- as far west as you can get in Texas -- there are no abortion clinics. That's 500 miles (an eight-hour drive) without a fundamental, protected right.
This wasn't always the case. Right now, there are 19 abortion clinics open in Texas. Three years ago, there were 41.
But then House Bill 2 went into effect. The law, which was famously filibustered by Wendy Davis in 2013, says that abortion clinics have to meet the requirements of an ambulatory surgical center and that doctors must have admitting privileges to a hospital within 30 miles of the facility.
The American Medical Association and American College of Obstetricians and Gynecologists said that those requirements are medically unnecessary for the abortion procedure, which is safer than childbirth or a colonoscopy.
The requirements caused clinics across the state to shut down. Whole Woman's Health provided abortions in five clinics in Texas before HB 2. Since then, they had to close four but were able to reopen a few. Two closed permanently.
Abortion has been a constitutionally-protected right since Roe v. Wade in 1973. In the 1992 case Planned Parenthood v. Casey, the Supreme Court further ruled it is unconstitutional to put an "undue burden" on women seeking abortions.
Whole Woman's Health fought HB 2 in the case Whole Woman's Health v. Hellerstedt.
On Monday, the Supreme Court announced their opinion in favor of Whole Woman's Health. With this decision, HB 2 no longer stands.
The Supreme Court's decision will have a ripple effect across the United States, especially in the south, as other states battle it out for access to abortion.
Had the Supreme Court ruled in favor of the state, only nine clinics would now be left open in Texas.
It will take some time for Texas abortion providers to build back up to the level of services they were able to provide before 2013. Clinics can't just reopen -- that will take time and money. Meanwhile, it will also take effort to let Texas women know that abortion is still legal and clinics are still open.
Andrea Ferrigno, Vice President of Whole Woman's Health, said:
Ultimately, abortion access-restricting laws aren't just medical jargon and legalese. They're life-changers for millions of women, like Dr. Valerie Peterson.
Dr. Valerie Peterson didn't know about Texas HB 2 until her doctor told her that her pregnancy would end in a miscarriage or stillbirth unless she got an abortion.
Peterson, who has a PhD in organizational leadership, was told she couldn't get pregnant after giving birth to her second daughter. So it was a surprise 15 years later, in July 2015, when she found out she was pregnant.
Her pregnancy was high-risk, so she had level 2 ultrasounds performed every two weeks. At the 16th week of pregnancy, her doctor confirmed that her son had Alobar holoprosencephaly (HPE), which means his brain did not split into two halves. That diagnosis, she said, was "100 percent incompatible with life."
Peterson asked her doctor if he could perform an abortion. He told her he could not, and that's when she learned about HB 2. She had recently moved to the Austin area from Kansas due to a job promotion and hadn't heard about the law and clinic closures.
Aside from making clinics further away from women, the closures caused wait times for appointments to increase. Peterson would have to wait two to three weeks for an appointment. She told her doctor:
There was absolutely no way I could continue to carry the baby for two weeks knowing that it's an unviable fetus. I just told him emotionally and mentally I'm unable to do that.
Meanwhile, she was up against another Texas law: a ban on abortions after 20 weeks. In a way, Peterson was lucky that her pregnancy was high-risk. Most women do not get level 2 ultrasounds until after 20 weeks -- so they would not know that their child had HPE until after they passed the Texas abortion week limit.
She was scheduling the appointment when she found out it would be a three-day process on top of the weeks-long wait. Texas has a 24-hour wait period where you have to have counseling exactly 24 hours before your procedure. She would have to come in on the first day for counseling, second day to start overnight dilation and third day for the actual procedure.
Peterson made the appointment.
But I hung up the phone knowing that I would not be able to emotionally and mentally go through that type of process.
Valerie was one of many women put in a desperate position because of abortion-restricting laws.
A report released last fall found that anywhere from 100,000 to 240,000 Texas women have tried to self-induce abortions.
Ferrigno said:
We've heard from women taking medications. We've heard from women taking home remedies, doing herbs and teas and things of that sort. We've also heard of people being so desperate that they've attempted physical harm on themselves, or had someone else harm them physically so that they could induce an abortion. It depends, I guess, on the level of desperation of the person.
Ferrigno's uncle began providing abortions in McAllen, on the Mexican border, just after Roe v. Wade. Ferrigno worked at his practice when she moved to the US from South America.
He started providing abortions, she said, because he saw what happened when women had illegal procedures, including women going into septic shock and losing their ability to have children in the future. Now, Ferrigno and her uncle worry that "we're regressing to how things were before Roe v. Wade."
When he retired, Whole Woman's Health took over his practice in 2004. But they had to close the clinic due to HB 2. Ferrigno was working for Whole Woman's Health then and said closing the clinic was one of the most difficult things she's done.
They had to notify women that they could no longer get their scheduled abortions there.
People felt helpless, and they felt desperate. There was a lot of fear about what was going to happen to their lives and how they were going to be able to rearrange the plans they had already made by choosing to have an abortion.
Whole Woman's Health provided resources for patients they couldn't serve, even buying bus tickets and hotel rooms for some women.
Eleven months after the McAllen clinic closed, it was allowed to reopen thanks to a court order to serve the women in the Rio Grande Valley. Although they were able to get back up and running quickly, it's a process to let Rio Grande Valley women know that they are there and that abortion is still legal.
Many women have instead been crossing the border to Mexico to get Misoprostol, a drug that induces an abortion, or trying other methods outside of the clinic.
Ferrigno says they are working on educating the community. Overall, she says, having a clinic open helps serve the region.
I met Ferrigno, who is comfortingly frank and quickly friendly, during a visit to the Whole Woman's Health facilities in San Antonio in late May, before the Supreme Court's decision was announced.
The facilities are outside the central hub of the city, a 15 minute drive from the River Walk. Buildings are spread out there, so you can see the famously endless Texas sky.
Whole Woman's Health of San Antonio is located in a small medical plaza where you can also find care for cancer, cataracts, orthodontists and optometrists.
There are actually two Whole Woman's Health facilities in the plaza -- a clinic and an ambulatory surgical center. Had the Supreme Court ruled against Whole Woman's Health, the clinic would have had to close.
The clinic is larger than the ASC; the waiting room fits more people. The ASC is currently used infrequently.
ASC requirements include temperature and humidity measures and hallways large enough to fit gurneys.
You can only use certain paints in ASCs -- and Whole Woman's Health had to get special permission to paint quotes on the walls.
The same drugs are used in the clinic and ASC, but in the ASC they are stored in a licensed pharmacy, which costs Whole Woman's Health more money. They also have to have an expensive crash cart in the ASC, while the clinic has all the same materials included in the cart without the expensive purchase.
Patients in the ASC have to wear surgical gowns, even though abortion is a non-incision procedure. They are brought into the operating room on a wheelchair or stretcher.
The ASC operating room is, frankly, frightening. It's big and filled with creepy-looking machines and giant overhead lights.
Procedures in the clinic happen in what looks like a regular doctor's office. Patients in the clinic can have a support person there with them.
After the procedure, patients spend 30-45 minutes in a recovery room. In the clinic, this is a dimly lit room with comfy leather seats and heating pads. You can sit with your support person, wear a soft Whole Woman's Health blanket and sip on specially-made tea.
In the ASC, you lie on a plastic hospital bed wearing just a gown with a pad somehow placed between your legs. Machines beep and it's cold.
You can't have a blanket because the blankets wouldn't withstand the sterile laundry services ASCs have to use. You can't have tea because all drinking liquids have to be pre-packaged -- so you'll have a water or juice bottle, cold.
Ferrigno acknowledged that if the Supreme Court ruled against Whole Woman's Health, they would have to figure out how to make the ASC experience better, because for now it's unpleasant, especially compared to the comforting clinic experience.
Dr. Bhavik Kumar, who provides abortions at Whole Woman's Health, explained:
It's the same procedure whether I would do it here [in the clinic] or do it in an ASC. It doesn't change anything that I do, it just changes the patient experience.
The differences between the ASC and clinic are what HB 2 hinged on. As Dr. Kumar said, these differences are medically unnecessary.
Kumar is 31 and has been providing abortions for Whole Woman's Health for 14 months.
He is slight and sweet-natured, but he realizes that to many patients he is the face of the Texas laws. He is the one who has to read them the state-mandated script 24 hours before their procedure, though he tells them he can't make them listen.
He has hospital admitting privileges, which he has not had to use once, as abortion has a low rate of complications. Kumar went to New York for his residency specifically to get training in abortion services and was able to easily get admitting privileges because he planned to provide straight out of medical school.
Kumar travels from his home in Austin to the Whole Woman's Health facilities in San Antonio (a two-hour drive) and Fort Worth (a three-hour drive). I asked him if his life was tiring and he shrugged -- every doctor is tired, and at least he gets value from what he does.
I love what I do. I enjoy it. I come here every day because I enjoy it, not because I have to. So, yes, I'm tired. Yes, it's exhausting sometimes. But I love what I do and I'm happy to see every patient and I go home happy doing the work that I'm doing. It's rewarding, and I can't say that about every other colleague of mine.
Ultimately, he knows he is helping women in a very real way.
Even if the Supreme Court ruled against Whole Woman's Health, he said:
I'll be here providing to whatever capacity I can.
Although Kumar travels quite a bit, it's merely representative of the distances Texas women have traveled to get abortions.
The average distance to a clinic more than doubled after HB 2 from 17 miles to 70 miles one way, according to a report released this spring. Twenty-five percent of Texas women whose nearest clinic closed after HB 2 now live more than 139 miles to the nearest clinic. Ten percent live more than 256 miles away.
And women are increasingly traveling out of state to get abortions. The Cherry Hill Women's Center in New Jersey, for instance, has seen an increase in out-of-state patients, including from Texas.
It doesn't help that abortion-restricting laws are popping up in many states, especially across the south, leaving millions of women far from clinics. So far this year, abortion access was legally threatened in 27 states.
Many west Texas women are closer to a clinic in New Mexico -- which is not an ASC -- than to a clinic in Texas, a point that was argued during the Supreme Court hearing on the Whole Woman's Health case in March.
For Valerie Peterson, the solution was Florida.
A friend was able to help her get an appointment at a women's center in Orlando.
Within 24 hours, I was on the plane headed to Florida to have the procedure done.
The procedure started at 8 in the morning on a Saturday. She was done by 1 in the afternoon. Since then, Florida has instituted a series of laws including a 24-hour waiting period, which would have made this a two-day process.
Peterson had to pay for the procedure out of pocket in addition to the last-minute flight, hotel, rental car and care for her daughters. Overall it cost her about $5,000.
I know that not a lot of people have the capacity to do what I did, but I needed to do that in order to keep my sanity, honestly. It was a tough, tough decision to make. It was not made lightly; it was made with a heavy heart. But I also think it was the best decision for me based off of the information that I received from my doctor and his recommendations and the pictures that I saw. So, that's how it ended. October 24th was the date of the abortion.
Since her ordeal, Peterson learned more about HB 2, which she described as "a cruel bill designed to keep women away from having abortions."
She knows she would not have been able to stand going through with her pregnancy. It was a devastating situation and the state law made it even harder.
Peterson and her daughters were excited to have a baby boy in their family.
They were there for each other since the HPE diagnosis and her daughters understand that an abortion was the best choice she could make.
Peterson realizes that she was in a better position than many other Texas women who might find themselves in the same situation. She was able to get the resources to go to Florida and get an abortion in a short amount of time. She says she always thinks about the women who aren't able to do that.
I asked her what she would have done if she didn't have those resources.
If I didn't have the money to cover it, I'd say you probably would not be speaking to me right now.
Citations: U.S. News & World Report, NCBI, Think Progress, Vox, New York Times, University of Texas, Los Angeles Times