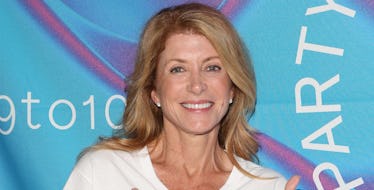 Wendy Davis Has The Realest Advice For Women Who Want To Be Leaders
Getty Images
I got home late on June 25, 2013, and checked social media. Everyone was buzzing about some senator in Texas who had been standing in pink sneakers for the whole day to block a bill.
I opened a live stream of the filibuster and started reading up on the anti-abortion bill she was fighting.
I didn't know the senator's name or anything about the bill that morning. But I was riveted by her stand for women's rights and infuriated by her male colleagues' attempts to stop her. I posted a simple Facebook status in awe:
So, I'll admit I got a little shiver when I picked up the phone this week and heard:
Hi, this is Wendy Davis.
Davis spoke with me about having your voice heard in a room full of men, her new project Deeds Not Words, and how exactly those pink sneakers made it to the Texas Senate floor.
On that summer night in 2013, Davis was trying to block a restrictive abortion bill. This year, that law is being fought at the Supreme Court.
Davis was filibustering Texas Senate Bill 5, which, despite her best efforts, was passed into law by then-governor Rick Perry. She says she's "hopeful" the Supreme Court will strike it down.
Davis is continuing to fight the Texas law. She told her own abortion stories to the Supreme Court in a note in January and hopes to be at the Supreme Court when the decision is announced in June.
But when women make issues personal, they tend to be dismissed as emotional. Davis recognizes women need to work harder to be taken seriously.
She knows this first-hand from her experience in the Texas Senate:
It was important to be more prepared probably than most other people on the floor. By doing that, you gain the respect of both your male and your female colleagues, and it helps to dispel any idea that you aren't up to the task. I also worked really well one-on-one, having direct conversations with colleagues both male and female and just letting them see my seriousness about the work I was doing.
Davis faced misogyny while in the Texas legislature, but she said:
The way to be taken seriously is to demand that we be taken seriously.
One of the most impressive parts of Davis' filibuster was seeing how she kept her composure.
That, she said, is an important part of being heard as a woman.
I know it doesn't help to lose my cool, and women have to be particularly sensitive to maintaining an intellectual presence and basis for our arguments -- more so than men do.
This is true both in politics and in the private world. Davis said:
We have to check ourselves. Is it fair? No. But knowing that's the world we live in, making sure we present ourselves as intellectually as possible is the best approach.
She watched this play out when Hillary Clinton got passionate during a debate this year. Commentators called Clinton "too caustic," and in the next debate, Davis noticed Clinton dialed back the heat.
Davis has been campaigning for Clinton.
She believes Clinton would be a great president given her depth of experience and she would be serious about fighting for women to have more economic equality, which would in turn help the whole nation grow.
Female politicians, in general, are more sensitive to certain issues, Davis noticed.
The folks in legislatures across the country that tend to be the most passionate about supporting public education, about supporting insurance for the uninsured, about making sure that we have equal pay, family leave, access to higher ed -- these are informed by our own life experiences.
She added:
It doesn't mean that men are deaf to it, but it means they need to be brought along sometimes because their perspectives are shaped by different experiences. It really speaks to why we need to have more women in the legislature across the country and certainly at the federal level as well.
Her hope for more women in politics partially inspired her new project, Deeds Not Words.
The project was announced this month at South By Southwest and will have a full launch in coming weeks.
The idea is for it to be a resource for young women across the country trying to enact change in their communities. Young women will be connected with existing organizations, such as End Rape on Campus, and given advice and guidance on how best to tackle specific issues.
Davis hopes this will help to empower a generation of female leaders.
Davis knows young women look up to her, and she tries to act in a way to inspire them.
This was particularly felt when she lost the race for Texas governor in 2014.
I honestly feel an obligation to show that when we get knocked down as women, we can come back just as strong, if not stronger.
She said she hasn't decided if she'll run for office again, but she feels a responsibility to show young women she's not giving up and is continuing to be engaged in issues she cares about.
Like the rest of us, Davis listens to Beyoncé to pump herself up.
But when she needs to put things in perspective, she puts on Bruce Robison's "What Would Willie Do."
She's watched "Out Of Africa," starring Meryl Streep, "so many times it's embarrassing." Streep's character reminds Davis vulnerability and strength combined are women's best powers.
Our vulnerabilities help us to see the world in a very empathetic way and it drives our passion to work to improve the lives of people who we know our having struggles. And our strength, obviously, helps us to be effective at that.
And as for the famous pink sneakers she wore during the filibuster?
They're by Mizuno, which she has been running in for almost 20 years, and the pink was just luck.
Pink is not a color I ordinarily would've bought. I wear a size narrow and Mizuno only does one color run at a time.
Which makes sense because everyone knows the coolest iconic fashion moments are the ones that happen totally by chance.