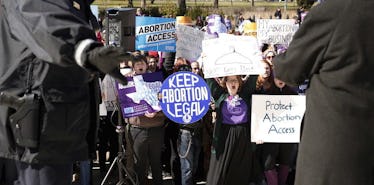 All The Times Abortion Access Has Been Threatened In 2016
REUTERS
Since the start of 2016, 28* states have considered legislation that would limit women's access to abortion.
Abortion has been a fundamental, Constitutionally-protected right since the Supreme Court ruled in Roe v. Wade in 1973.
But since then, access to abortion has been deliberately stripped in states. This month, the Supreme Court is announcing their ruling on Whole Woman's Health v. Hellerstedt, the most important abortion case in decades that will determine access to abortion for millions of women across the United States.
Depending on the outcome of the Supreme Court case, abortion restricting laws across the country will either fall or be emboldened.
Abortion is a very safe and common procedure. Approximately one in three women in America will have an abortion in their lifetime.
That hasn't stopped politicians from finding new methods to block access. Pro-abortion groups call these "TRAP" laws -- the Targeted Regulation of Abortion Providers.
The laws are increasingly creative. Lawmakers cannot outright ban abortions, but they have a handful of tricks they can use.
Some states go a more direct route, banning a particular method of abortion or banning abortion after a certain week in a woman's pregnancy.
Indirect methods include requiring abortion providers to have admitting privileges at a hospital and meet the regulations of an ambulatory surgical center -- which is at the heart of the Whole Woman's case from Texas.
Lawmakers can target women by adding waiting periods and "informed consent" scripts, which are often full of factually incorrect statements. Indiana introduced a new twist requiring that women bury or cremate aborted fetuses, which are often smaller than a peapod.
Lawmakers can target doctors, like they tried to do in Oklahoma by criminalizing providers. The governor vetoed that law.
And they can make doctors follow odd medical practices. Arizona made doctors use outdated FDA guidelines and Utah dumbfounded doctors saying they had to provide fetal anesthesia. That doesn't medically exist.
Since last year's undercover Planned Parenthood videos, many states have introduced legislation to limit the transfer of fetal tissue, which has slowed research that would save lives. Legislation against Planned Parenthood has also continued.
There have been over 50 instances of what's considered anti-abortion legislation in 28* states so far in 2016, according to Elite Daily's analysis. We will continue tracking these laws here and on a Twitter account.
Here is each piece that has been considered:
Alabama
Alaska
Arizona
Arkansas
Florida
Georgia
Idaho
Indiana
Kansas
Kentucky
Louisiana
Minnesota
Mississippi
Missouri
New Hampshire
New Mexico
North Dakota
Ohio
Oklahoma
Pennsylvania
South Carolina
South Dakota
Tennessee
Texas
Utah
Virginia
West Virginia
Wisconsin
*Last updated: 1/3/17
Citations: Vox, The Atlantic, Washington Post