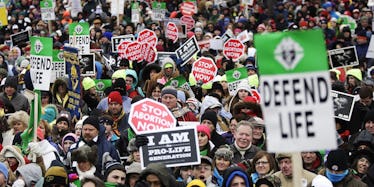 This State Is Basically Trying To Completely Ban Abortions With New Law
REUTERS
A bill that would essentially ban abortions in Oklahoma made it to the governor's desk.
Rather than outright banning abortions, the bill says doctors would lose their medical licenses if they performed abortions.
This is the kind of outrageous law that has us double checking the Supreme Court's 1973 decision in Roe v. Wade. Indeed, in that landmark case, the Supreme Court said abortion is a constitutionally protected, fundamental right.
Because of Roe, states are not allowed to just make abortions illegal. But, this proposed Oklahoma abortion bill is toeing that line as closely as possible.
This bill doesn't ban abortion. But, it does list abortion as "unprofessional conduct" for doctors. It puts providing abortions in the same category as aiding criminal activity, regularly using habit-forming drugs and being convicted of a felony.
Should the bill be enacted, doctors who provide abortions could lose their medical licenses and spend up to three years in prison.
The Oklahoma House of Representatives passed the bill last week, and now it's up to Governor Mary Fallin, a Republican, to decide whether or not she'll sign it.
In a statement last week, Amanda Allen, senior state legislative counsel at the Center for Reproductive Rights, said,
The Center for Reproductive Rights is closely watching this bill and we strongly urge Governor Fallin to reject this cruel and unconstitutional ban.
Should the center take this bill to court, it has a good argument to get the bill struck down as unconstitutional, given that it criminalizes the provision of a fundamental right.
The New York Times editorial board also denounced the bill, saying,
This legislation is plainly unconstitutional, and would be struck down as quickly as earlier attempts to ban abortion outright.
Aside from this bill, abortions are already hard to get in Oklahoma. The Center for Reproductive Rights said there are currently only two abortion providers in the state. Oklahoma women seeking abortions also have to wait 72 hours between meeting with a doctor and getting the procedure.
The Center for Reproductive Rights is also fighting an Oklahoma bill modeled after a law from Texas. That law requires abortion providers to have hospital admitting privileges -- a requirement that is medically unnecessary.
The Texas law is being argued in the Supreme Court this year in the landmark Whole Woman's Health v. Hellerstedt case. The arguments were heard in early March, and the decision will be announced in late June.
Citations: Oklahoma Is Going After Abortion Doctors For Doing Their Jobs (ThinkProgress), This insane new bill effectively outlaws abortions in Oklahoma (Fusion), Oklahoma lawmakers approve bill to revoke licenses of abortion doctors (Reuters), Oklahoma House Passes Measure Banning Abortion (Center for Reproductive Rights), Oklahoma's Unabashed Attack on Abortion (The New York Times), Oklahoma District Court Greenlights Texas-Style Clinic Shutdown Law (Center for Reproductive Rights)