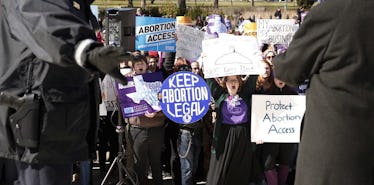 Abortion Providers Now Have To Use Outdated Science In This State
REUTERS / Kevin Lamarque
Literally two days after the FDA updated its guidelines on use of the abortion pill, Arizona signed a bill into law that makes providers use the old guidelines.
The original FDA label for Mifeprex, the medication abortion, is based on clinical trials from the 1990s.
Since then, providers have been using the medication differently from the FDA guidelines, based on evidence from actual use of the pills. Doctors often prescribe medication differently from FDA guidelines.
On Wednesday, the FDA updated its guidelines to match what providers have been following. The changes included extending when the medication abortion can be used from 49 days after a woman's last period to 70 days. The changes also say women do not have to go to a doctor's office to take the second pill in the regimen.
Three states -- Ohio, Texas and Nevada -- have laws that state abortion providers have to follow the FDA guidelines. With the update, providers in these states can now start giving medication abortions in the safe way providers in the rest of the country have been doing for years.
These changes open up access to abortion, making it cheaper and simpler, as women have to make fewer trips to a clinic.
On Friday, Arizona Governor Doug Ducey signed a law stating providers have to instead use the old, outdated guidelines. So Arizona abortion providers literally have to use old science that's been updated by federal officials.
David Brown, Staff Attorney at the Center for Reproductive Rights, said in a statement:
A law requiring women to receive 20th-century medical care in the 21st century is mean-spirited and offensive. Politicians have no business playing doctor by passing regulations that forbid patients from benefitting from decades of accumulated scientific evidence and restrict their ability to access abortion in the earliest weeks of pregnancy.
Ducey signed two other Arizona abortion laws on Friday. One stops abortion providers from moving fetal tissue to be used for research. The other law makes it more difficult for people to donate to abortion providers, like Planned Parenthood.
As always with the fight for reproductive rights, it's one step forward, two steps back.