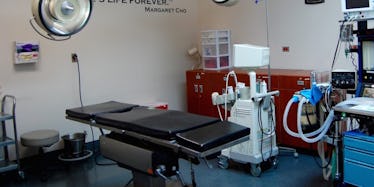 Ohio Just Passed Another Abortion Bill That's Even Worse Than That 6-Week Ban
Two days after passing a ban on abortion after six weeks, Ohio lawmakers passed a ban on abortions after 20 weeks of pregnancy.
The 20-week abortion ban was passed by the Ohio House on Thursday, December 8, and led by Republican politicians. Just like the six-week ban, there are no exceptions under this bill for pregnancies caused by rape or incest.
The bill (along with the six-week ban) is now heading to Governor John Kasich, who has the power to decide whether or not to enact it.
Iris Harvey, president and CEO of Planned Parenthood Advocates of Ohio, said in a statement,
These bans are a deliberate attempt to make abortion illegal in the state of Ohio.
The ACLU of Ohio said it will challenge the bans in court, should Kasich sign them.
But Ohio lawmakers have been emboldened by the election victory of Donald Trump, who they believe will turn the Supreme Court anti-abortion.
(To be clear, the Supreme Court ruled in favor of abortion rights 5-3 this year with Whole Woman's Health v. Hellerstedt. Should Trump nominate one pro-life justice, that would still keep it 5-4 in favor of abortion rights — pending the swing decision of Justice Anthony Kennedy, who has voted in various directions on the issue.)
Democratic National Committee spokesperson Rachel Palermo said in a statement about the Ohio 20-week ban,
Ohio's restrictive abortion bill is just the latest example of Republicans across the country taking their cues from Donald Trump, who has a shameful record of denigrating women and ignoring issues important to them.
20-week abortion bans are especially cruel laws when put into practice.
Most abortions occur before that point.
Over half of all abortions in Ohio last year occurred within 12 weeks of pregnancy, according to Cleveland.com, and 133 occurred after 21 weeks of pregnancy.
According to the CDC, 91.4 percent of abortions across the United States occurred within 12 weeks of pregnancy and 1.3 percent occurred after 21 weeks.
Late-term abortions typically happen for horrible reasons, including medical threats to the mother's life and diagnoses of fetal anomalies and major disabilities.
Should these laws go into effect, abortion access will be very limited in the state of Ohio. Women would likely be forced to travel out of state to obtain a medical procedure that is a legal right — and extremely safe, when legal.
Forcing women to travel creates financial barriers for women, essentially meaning that only rich women can afford to get that medical procedure.
The Supreme Court rules that women cannot have an "undue burden" placed on them to obtain abortion services.
It's not likely that both of these bans will stand under legal scrutiny. But first, it's up to Kasich to decide if he's even going to try.