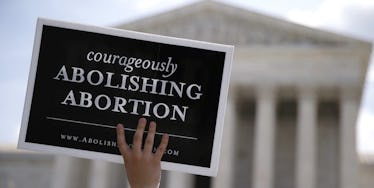 Ohio Passing A Ban On Abortions After 6 Weeks Is A Terrifying Sign For 2017
REUTERS
On Tuesday, December 6, Ohio passed a ban on abortion after six weeks of pregnancy.
The ban was added as a last-minute amendment to an unrelated bill about child abuse by the Ohio Senate. The majority Republican Senate passed it on Tuesday afternoon, and the majority Republican House of Representatives passed it Tuesday night.
It is now awaiting Governor John Kasich to sign it into law.
The idea of a ban like this is by no means new. The only new part is that the Ohio Senate feels confident in passing it.
Ohio Senate President Keith Faber had previously chosen not to act on a six-week abortion ban because he felt that it would be found unconstitutional and subsequently undone.
A six-week abortion ban in North Dakota, along with a 12-week ban in Arkansas, were found to be unconstitutional last year. The Supreme Court upheld that ruling by declining to hear the cases.
Faber — along with Kasich and anti-abortion group Right to Life — believed that a six-week ban would be struck down, and did not pass it.
As I've told you before, Trump has the potential to damage women's access to healthcare, including abortion services.
He has said he will support anti-abortion policies, including efforts to undo Roe v. Wade. Meanwhile, vice president-elect Mike Pence has a notoriously disgusting background on women's rights.
Trump has said he will nominate a pro-life justice to the Supreme Court. That would make it easier for states to get away with anti-abortion laws like this (although one justice won't fully swing the court, necessarily).
Ohio lawmakers were emboldened by Trump's election victory.
Faber said,
A new president, new Supreme Court appointees change the dynamic, and there was consensus in our caucus to move forward [...] It has a better chance than it did before.
So you can see very clearly that this new ban was a direct cause of Trump's election.
Cool.
If you like women having access to safe and legal abortions rather than being forced to take desperate, costly and sometimes dangerous methods, this is a bad law.
They're calling it a "heartbeat bill" because they're saying it's when you can hear a fetus's heartbeat.
But six weeks of pregnancy is a very short amount of time. There are a lot of women who are not even aware that they are pregnant at that point.
So a six-week ban is, like, problematic based on menstrual cycles.
We are sending love and our fighting spirit to @ProChoiceOH, @choicenetwork, @OhioRCRC, @PretermMAML, @PPAOhio — Whole Woman's Health (@WholeWomans) December 7, 2016
Plus, with few abortion clinics in the state and laws requiring women come in at least twice for a procedure — once to be "informed" and then wait 24 hours before coming back for the 10-minute procedure to make sure a woman totally wants an abortion, which is a law not based on the reality of women's certainty — it's possible that it would take some time for a woman to be able to:
Find a two-day period to get this done
Arrange for travel, accommodations and possible child care
Find the money for the procedure
Get an appointment at a clinic, which may have few immediate openings
These factors could easily push a woman beyond the six-week limit, even if she knew she was pregnant before that point.
Lawmakers might be feeling good about it, but precedent indicates the ban will be shut down soon enough.
As mentioned, six and 12-week bans have already been called unconstitutional. The Supreme Court protects women's right to abortion without "undue burden," a point that they made clear this summer.
But the fact that these anti-abortion lawmakers already feel so empowered by Trump's victory is startling.
Reproductive rights groups are gearing up for a fight to protect women's rights as everyone's assumed Republican lawmakers will feel empowered.
But for this to happen before Trump even takes office is, I mean, damn.
It's not a good sign for what's to come. Someone please make sure Ruth Bader Ginsburg is taking her vitamins.
Citations: Reuters, Cleveland, Women's Med