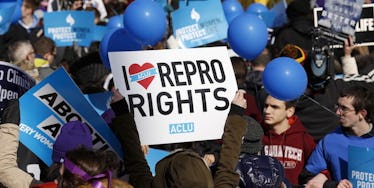 How To Get Involved If You're Worried About Reproductive Rights Under Trump
REUTERS
The election of Donald Trump has made a lot of people worried for reproductive rights.
Trump has said he would punish women for getting abortions and support the defunding of Planned Parenthood.
Most recently, Trump said he would nominate pro-life justices to the Supreme Court in an effort to undo Roe v. Wade, which made abortion legal in 1973.
Trump also said he would undo Obamacare, which has the potential to take away coverage of birth control for many women around the country.
If these are things that concern you, you can get involved.
Most of these things would probably happen slowly over time, rather than be immediate switches. That means that you have time to do something about them and help organize an effort.
Volunteer with a local organization.
Use whatever skills you have to help.
Local women's health offices may need people to answer phones, run websites and social media pages, or do paperwork and research. Make yourself available.
You can also sign up to be a clinic escort, who walks women getting abortions past protesters and into clinics.
Call local politicians.
You can call your representative in Congress to tell her or him you support reproductive rights and you want her or him to do the same.
If your state has laws that restrict access to reproductive rights, you can call your governor's office and say something about it.
Tell your story.
Women's reproductive and sexual health is often kept quiet as there are stigmas against speaking up about it.
But that stigma is slowly coming down as more women tell their stories. By sharing your story, you are normalizing the decisions every woman makes in the course of her lifetime.
You are sending a message that birth control, abortion, STDs, endometriosis and other issues affect a wide range of women.
You are saying that these issues cannot be silenced by politicians. You are saying that they need to pay attention and can't dismiss these topics as "nitty-gritty."
Educate yourself on your rights.
Abortion is legal across the United States.
Birth control and various screenings are covered under Obamacare. But there are ways companies and insurance policies get around that.
Oregon, Washington and California have laws about getting birth control over the counter.
Several states do not tax tampons and pads. Check your receipts.
Specific laws on abortion vary widely by state.
Check out these organizations.
Many groups are already fighting for the protection of reproductive rights. Check out and consider donating to:
These organizations are valuable resources for you to learn about what issues are pressing and what rights you have.
Citations: CBS News, Vox, New York magazine, Business Insider, Huffington Post