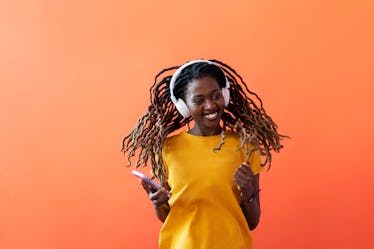 These 45 Instagram Story Songs Include Trending Hits & Throwback Faves
JulPo/E+/Getty Images
Of all the Instagram Story stickers available on the app — Links, "Add Yours" prompts, Polls, and more — the one that can keep you tinkering for hours has to be the Music sticker. Not only is it a super personal way to spruce up your Story, but it sets the vibe for your post, too. With thousands of songs to choose from, though, it can be tough figuring out which tunes to use. Luckily, this list of the 45 best songs for Instagram Stories includes trending hits and throwbacks, so you can easily pick the perfect song for just about any occasion. You're welcome.
Adding a song to your Instagram Story is a great way to give your followers a better understanding of your music taste, and an even better way to put someone on to a song they might have never heard otherwise. At this point, you're probably super familiar with the Music sticker (it's been around since June 2018, after all), but if you haven't used the feature in a minute, here's a quick refresher.
To use the sticker, all you have to do is open the Story camera, take or import the content you want to use, then tap the sticker button with the smiley face in the top right corner. Select the Music sticker, type in the name of the song you want to use, and you're good to go. Instagram only lets you play 15 seconds of a song at a time, but you can select which 15 seconds you want to use by dragging the tool at the bottom of the page. And if you want to make your Story feel like a karaoke party, you can opt to display the lyrics, too.
To make your Story stand out with a forgotten favorite, a song that never goes out of style, or a trending bop, check out the best Instagram song options to make your Story so fire.
New Songs For Instagram Stories
These jams from 2022 and 2023 will keep your Story fresh, and they've been arranged from most to least recent to keep your Story as up-to-date as you'd like.
This article was originally published on