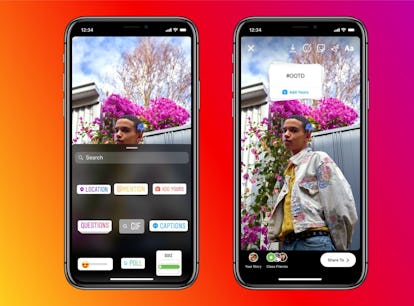 Here's The Deal With The Tricky "Add Yours" IG Story Feature
Instagram
Instagram upgraded its Story game again. Just when you thought the 'Gram couldn't get more interactive, the social media platform introduced a new feature that makes it even more fun to react to your friends' updates. You may have already seen the "Add Yours" sticker when scrolling through your Stories and wondered what it's all about. It's a little bit tricky at first, but you can catch on quickly. Here's how to "Add Yours" on Instagram Story to get in on all the photo fun.
The new addition to Instagram Story first began as a test in Japan and Indonesia in early October 2021, and it rolled out globally to all users on Nov. 1. Even if you've already seen it, you may not understand what the feature is. Basically, the "Add Yours" Story photo feature is a fun prompt users can include to get people to post a picture or video that fits the theme. For example, if one of your friends posts an Instagram Story with the "Add Yours" sticker that reads, "Here's my fave fall sip," you can add a picture of your favorite drink to their Story collection.
When you interact with the sticker, you can view other people's contributions and add your own. Then, your friend (the poster) can view everyone's Stories. Before you start sharing, here's everything you'll want to know.
How To Add Your Photo Or Video To An "Add Yours" Story:
When you find an "Add Yours" prompt in a Story you want to add to, here's what to do:
Watch the Story and tap the "Add Yours" sticker.
Once you select the sticker prompt, you should see a menu come up that lists everyone who's contributed so far. You can also watch their Stories with their additions.
At the bottom of the menu, you'll see a blue sticker that says "Add Yours." Tap on that to create your own.
You can also tap directly on the "Add More" button on the sticker directly on the Instagram Stories camera icon to add your photo or video.
To add your own, you can either take a photo or video using the Stories Camera or choose to upload a photo or video from your phone's photo gallery.
Once you're ready to add it in, choose "Share your Story," which will post your picture to Your Story and the sticker thread.
If your account is set to public, your Story will be viewable to anyone who sees the same "Add Yours" sticker that you posted your update to.
How To Create Your Own "Add Yours" Story:
To start, open your Instagram Story Camera and take a photo or video of your choice.
Then, in the editing mode, tap in the sticker button (the square smiley face icon).
Look for the "Add Yours" sticker near the top of the page. The icon shows up as a white background with an orange and purple.
Once you tap on the sticker, you'll see the sticker appear on your post with a spot to add a prompt. Type in what you want, or tap the dice icon to do a random prompt, and then tap out of the text box.
Make any necessary finishing touches to your Story and post.
After you've published it to your Story, you'll be able to view everyone who responds by watching your Story and tapping on the sticker.
Keep in mind that when you tap on an "Add Yours" sticker in a Story, it will only show up to 300 people's photo additions, even though more people may have gotten in on the photo fun. Now that you know how to use the new feature, you can be a part of the best virtual chain letter ever.