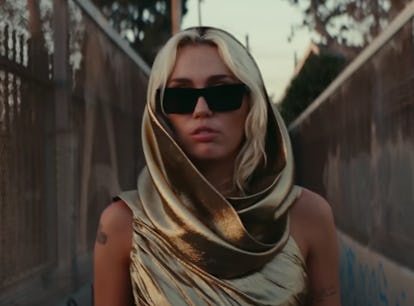 Where Is Miley Cyrus' "Flowers" Music Video Filmed? It's Close To Home
Only Miley can make hiking in a gold dress that fabulous.
Miley Cyrus is determined to make 2023 her year. After hosting Miley's New Year's Eve Party with her godmother, Dolly Parton, Cyrus dropped her new single, "Flowers," on Jan. 13 — aka Liam Hemsworth's birthday. Along with the song's release, Cyrus also premiered a new video, which has fans wondering, where was Miley Cyrus' "Flowers" music video filmed?
Well, if you're familiar with the Los Angeles skyline, you'd be correct in guessing that Cyrus' music video was filmed in the "City of Angels," but where exactly in LA? After all, this isn't the first time Cyrus has chosen SoCal for a music video location. For her song "Malibu," she chose to shoot near her home in Malibu — which makes sense. However, that song was from a totally different era in Cyrus' career. At that time, she was married to Hemsworth and the two of them were living in Malibu together. Now, Cyrus is living her best life and ready to buy herself flowers. She shows off her independence as she dances around a mansion in Los Angeles, and it turns out the "Flowers" filming location is the perfect backdrop to what the anthem is all about.
Where Was Miley Cyrus "Flowers" Music Video Filmed?
The "Flowers" music video kicks off with Cyrus, who is dressed in gold and sunglasses, walking across a graffiti-filled bridge. While it's hard to discern which bridge it is, the music video then cuts to a shot from a bridge overlooking one of LA's freeways. As Cyrus sings her first chorus, she can be seen strutting as she hikes what appears to be Runyon Canyon, according to the Daily Mail. Runyon Canyon Park is a very popular hiking destination for both locals and tourists looking for pretty easy trails and Insta-worthy views of LA. As you hike up Runyon, you may be able to find the exact filming location for Cyrus' "Flowers" music video. While you can dress the part and wear your own version of a golden dress, it might be better to just wear gold leggings for an inspired "Flowers" look.
Following this "Flowers" scene, Cyrus ends up at a mansion, where she strips down and jumps into the pool. The home used for the music video is reportedly Cyrus' Studio City home, which plays into the independence theme. Business Insider reported back in 2011 that Cyrus purchased a five-bedroom Studio City mansion for $4 million. While it's unclear if that's the same Studio City home used for the music video, both houses do feature gorgeous backyards with massive pools.
For the rest of the music video, Cyrus can be seen swimming, working out, and dancing around the home. She even sings, "I can take myself dancing," and that's exactly what she does. If you're hoping to recreate the "Flowers" music video yourself, a trip to LA may be something you'd want to plan. Of course, you can't visit Cyrus' house, but there are plenty of gorgeous Airbnbs in the Hollywood Hills that provide the same experience, and you can find something that has both views of the LA skyline and a pool in the backyard. When you're not dancing around like Cyrus, venture out to find the bridge she walked across, hike up Runyon Canyon, or track down other Miley Cyrus filming locations. For instance, part of Hannah Montana: The Movie was filmed in LA, like the Santa Monica Pier and along Rodeo Drive.