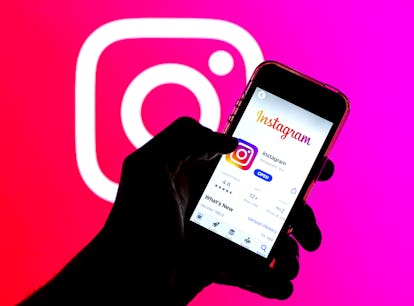 If You're Having Trouble With Link Stickers In Instagram Story, Try These Fixes
A few simple taps should have you back in action.
SOPA Images/LightRocket/Getty Images
Instagram users sick of typing the phrase "link in bio" collectively rejoiced in October 2021, when the company announced the Link sticker, which expanded link-sharing privileges on Instagram Story to all accounts. Users had requested the ability to share links in Stories for years, and now that it's finally here you may have some questions about how to use the Link sticker. If you can't find the Instagram Story Link sticker or tap on a Link sticker in other people's IG Story, here's what to know.
The wide rollout of the Link sticker took the place of the link swipe-up in Instagram Stories on Oct. 27, 2021. Initially, some iPhone users experienced delays due to the gradual iOS rollout, per an statement from an Instagram spokesperson to Elite Daily at the time, but the Instagram Story Link sticker quickly became more widely available. That means if you're having issues with the new feature nearly five months after its launch, there are likely some other factors at play. But don't give up on the Instagram Story Link sticker just yet, because there's likely a simple solution. Here are some of the reasons why you might have trouble with the Instagram Link sticker — and what you can do to fix it.
Why Don't I Have The Link Sticker On Instagram?
Whenever you have an app issue, the first step toward solving it is to check if your app is updated to the latest version. If you can't find your Instagram Story Link sticker, make sure your Instagram app is on the version that includes the Link sticker. Simply open the App Store app and search "Instagram" in the search bar. If it's up to date it will say "Open," and if it's not, it'll say "Update." You can also update IG on your Android Device in Google Play.
If the issue persists and you still don't see the Instagram Story Link sticker, try deleting and re-downloading the app. Just make sure you know your password (and your Finsta password, and your pet account password...), because you'll need it to log in again.
Updated, deleted, and relaunched Instagram, and you still can't see it? There's one last trick you can try: Shut it all down. "Have you tried turning it off and turning it on again?" is a classic tech refrain because, well, it works. According to an Instagram spokesperson at the time of the October 2021 launch, you can try turning off your phone and turning it back on again, which proved successful for some users missing the Link sticker.
Why Can't I Tap On & Open Links On Instagram Stories?
Even if you have the ability to add a Link sticker to your Instagram Stories, you might have some trouble tapping on and opening other people's links. According to a Meta spokesperson if you're unable to tap Link Stickers in Stories, it may be because you haven't updated your app in a while. Your best bet is to update to the latest version of Instagram before giving it another go.
If your Instagram app is up to date and you're still having issues, the fix might not be so simple. According to the spokesperson, you may be experiencing a random bug. Hopefully the bug won't last for long, because everyone should have access to add, tap on, and open Link Stickers at this point in the game, per the spokesperson.
Why Is The Instagram Link Sticker Not Showing Up?
If you can't find the Instagram Link sticker, but know you've seen it before — make sure you're looking in the right place. You can add a link from the sticker tray in your Instagram Story. If you don't see it right away, try typing "link" in the search bar of the sticker tray, and then tap on the blue link icon. From there, paste the link you want to share, name it, and you're all set.
Again, if all else fails, you can try updating Instagram, deleting and reinstalling it, or turning off your phone and turning it on again. It might be a little more effort than you'd like, but hopefully it'll lead you to the Link sticker promised land.
It's always a little frustrating when a new feature doesn't work exactly how it's promised on the first try, but hopefully these tips will help you step up your Link sticker game so that you never have to utter the words "link in bio" again.
This article was originally published on