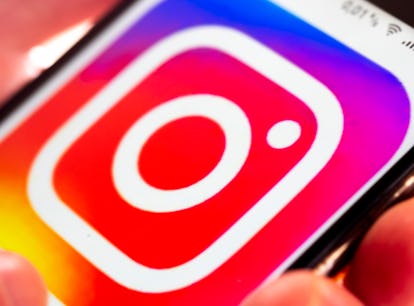 Chronological Instagram Feeds Are Back, But There's A Catch
Reunited, and it feels so good.
SOPA Images/LightRocket/Getty Images
Sometimes it seems like I've lived three lifetimes since the posts on my Instagram feed were in chronological order. But that's all about to change, because on March 23, Instagram head Adam Mosseri announced two new feed options — and they both finally let you view your feed chronologically again. If you're ready to view everyone's IG posts like it's the good old days, here's what you need to know about how to make your Instagram feed chronological.
ICYMI, Instagram head Adam Mosseri posted a video to his own IG account on Jan. 5, 2022, to elaborate on a test of three new feeds: Home, Favorites, and Following. Mosseri explained in the video that two of the three test feeds would allow users to enjoy their content chronologically again, after the company ditched the idea in 2016. Then, on March 23, Mosseri announced in another Reel that Instagram officially began rolling out the Following and Favorites feeds to Instagram users around the world to allow for more variety and control. Though the Home feed didn't make the cut (it's now called the main feed and doesn't have a label), users can get pumped about the option to view IG feeds chronologically again.
If you weren't part of the test, you're probably wondering how the new feeds work.
Chronological Instagram Feed: Following
As the name suggests, the Following feed is for when you want to see the most recent posts from the accounts you follow in chronological order, just like the good old days. To access the Following feed, open the Instagram main page (the house icon at the bottom left corner) and look to the top-left side of the screen. Then, tap on the cursive Instagram logo to reveal a drop-down menu that reads "Following" and "Favorites." Tap on Following, and watch the chronological magic happen.
Chronological Instagram Feed: Favorites
The Favorites feed is a pared down version of Following because it only shows you posts from accounts you've marked as Favorites. You can see it when you tap on "Favorites" from the dropdown, and it includes people you know IRL like your friends and family, as well as your favorite creators, artists, musicians, and more. To start selecting your faves, select "Add Favorites" in the Favorites feed and tap "Add" or "Remove" next to your most beloved accounts. According to Mosseri, your Favorites will also appear higher up in your main feed.
You'll have to remember to manually select the Following or Favorites feed every time you open the app, because they won't stay as your default option — that's still the main page (if you're still running the test, you might still see "Home" as an option as well). To return back to the main page from the chronological feeds, tap the back arrow next to Following or Favorites, or tap the house icon at the bottom of the screen. If you don't see the new Following and Favorites options, make sure to update your Instagram app to the latest version.
The main feed will still be your default, and according to Mosseri, it will "continue to be ranked," which means your algorithm will rearrange and suggest personalized content it thinks you're most interested in. Plus, Instagram announced in a March 23 blog post that even more suggested content will be making its way to your main page over time. Better get those Favorites figured out pronto.
A chronological Instagram feed may not be the default as it once was, but thanks to the new Following and Favorites feeds, it's no longer a thing of the past.
This article was originally published on