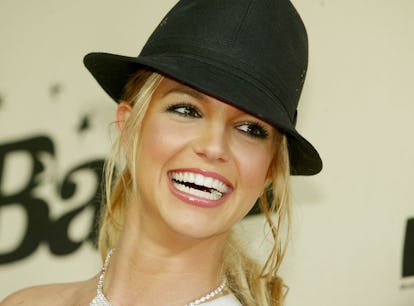 36 Y2K-Inspired Captions That'll Give You Flashbacks To Your Butterfly Clip Days
These quotes are what dreams are made of.
Kevin Winter/Getty Images Entertainment/Getty Images
Pull out your butterfly clips and airbrushed tees, besties. The 2000s are back, and they're better than ever before. Now that your favorite shows from the era, like Hannah Montana and That's So Raven, are streaming on Disney+, and Sex and the City is back with the And Just Like That… reboot, you now have a newfound appreciation for Y2K trends like mini skirts, trucker hats, and sparkly bling. Chances are you're rocking everything from Polly Pocket #looks to phone charms on Instagram or TikTok, which is why you need the very best Y2K-inspired captions ASAP.
While you're pretty sure your BFFs would pick up on your 2000s-inspired style choices instantly, you know Y2K-themed quotes will really make them feel nostalgic for the good ol' days. With Britney Spears making a glorious comeback thanks to the #FreeBritney movement and Hilary Duff gracing our TV screens once again in the How I Met Your Mother spinoff, you don't even have to feel nostalgic — the 2000s are back. From Bennifer to a Paris and Nicole reunion, the Y2K theme going on rn is strong AF and "that's hot."
You may even be spending your days looking up bracelet guides on Pinterest and figuring out how to style low-rise jeans for Instagram. The only thing missing from your OOTD pics are some Y2K-inspired captions. With these 45 Y2K captions, your besties can scroll through their phone, be reminded of the good times, and text you something like, "Do you remember how hard it was to text on a flip phone?" — just as long as they don't have a BlackBerry.
"It's the 2000s. You're bedazzling a pair of jeans in your room that's covered in Christina Aguilera and Britney Spears posters. Life is good."
"Dressing up like it's 2004? That's *actually* hot."
"Hey, MTV. Welcome to my crib." — MTV Cribs
"Check out my new bling."
"My friends, aren't they something?" — Miley Stewart, Hannah Montana
"It felt so good to fall in love." — Destiny's Child, "Brown Eyes"
"That's just, like, the rules of feminism." — Gretchen Wieners, Mean Girls
"This outfit has major Polly Pocket vibes."
"More butterflies, please."
"Sit back and let me pour out my love letter." — Destiny's Child, "Cater 2 U"
"Does this mini skirt make you feel like it's 2002?"
"The only club I want to go to is Club Penguin."
"RIP to my Tamagotchi."
"Flare jeans over skinny jeans any day."
"If you need me, I'll be sorting my Pokémon cards."
"Excuse me, where's Limited Too?"
"I keep on fallin' in and out of love with you." — Alicia Keys, "Fallin'"
"Make Mariah Carey proud. Wear an airbrushed tank."
"Automatic, supersonic, hypnotic, funky fresh." — Ciara "One, Two Step (feat. Missy Elliott)"
"Raised on Britney Spears and Bratz."
"Yoga pants walked so flare leggings could run."
"Amigas, cheetahs, friends for life." — The Cheetah Girls and Belinda, "Amigas Cheetahs"
"Big pants, little top."
"The category is flawsome."
"I think it's time to re-introduce the velour tracksuit to my closet."
"Talk to the trucker hat."
"Drop your best away message in the comments."
"What? Like it's hard?" — Elle Woods, Legally Blonde
"That is just so typically me." — Britney Spears, "Oops!...I Did It Again"
"All my girls at the party." — Janet Jackson, "All for You"
"The 2000s called. They want their flip phone back."
"Oh, snap!" — Raven Baxter, That's So Raven
"Friends who make bracelets together, stay together."
"Lip gloss check."
"Couldn't wait for the summer and the Warped Tour." — blink-182, "The Rock Show"
"Hey now, hey now. This is what dreams are made of." — Lizzie McGuire, The Lizzie McGuire Movie
"Myspace taught me how to code."
"They say nothing lasts forever; dreams change, trends come and go, but friendships never go out of style." — Carrie Bradshaw, Sex and the City
"Waiting for you is like waiting for rain in this drought. Useless and disappointing." — Sam, A Cinderella Story
"Nothing will ever be as iconic as Britney, Paris, and Lindsay all in the same car together."
"Hoes over bros." — Brooke, One Tree Hill
"Xoxo, gossip girl." — Gossip Girl
"An ode to Mary-Kate and Ashley's boho-chic era."
"If you need me, I'll be on AIM."
"Am I being Punk'd right now?"
This article was originally published on