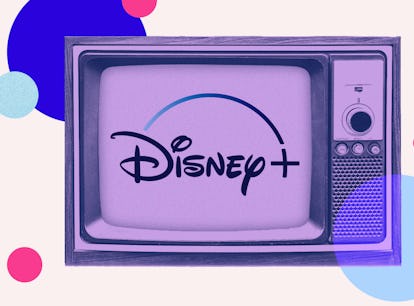 Disney+'s August Lineup Includes A Wild New Marvel Show
There are also a lot of dog movies, FYI.
SORAPONG CHAIPANYA/EYEEM/GETTY
August represents a bit of a pause in the Marvel big-screen world (the MCU's next movie, Shang-Chi, will turn up come September). But on Disney+, there's a brand-new Marvel series, What If..., to tide fans over through the long, hot days. However, if Marvel isn't your thing, not to worry! Disney+ is also celebrating the season by honoring the dog days of summer, bringing new dog-centric series and classic animal films from the vault. And yes, there's even more coming to Disney+ in August 2021.
Season 1 of Marvel's most successful Disney+ series to date, Loki, concluded in mid-July. But the MCU is determined to keep the time-bending momentum going with its newest offering, What If... Like Star Wars: The Bad Batch, this is an animated spinoff of the franchise, the first of its kind from the MCU. But like its live-action counterparts, the voice work comes from the same actors who appear on the big screen: Robert Downey Jr. voices Iron Man, Chris Evans will be Captain America, and so on. The show also features one of the final performances recorded by the late Chadwick Boseman, who reprised his character of Black Panther.
But there's more than Marvel coming to Disney+. For August, the streaming service is going to the dogs. Turner and Hooch will debut new episodes all month, as will Cesar Millan: Better Human Better Dog. And in movies, both Beverly Hills Chihuahua sequels will also be making their Disney+ debuts this August. Also, Underdog will be coming at the end of the month, as will Cruella, which moves from Premier Access to regular streaming.
One programming note: The conclusion of The Bad Batch marks the final weekly series that arrived on the old Friday schedule. With that, Disney+ is also moving full seasons of TV series to drop on Wednesdays alongside weekly releases. By the end of the month, Friday releases will be movies only, with TV entirely shifted to mid-week, making Wednesdays the dominant premiere day for Disney+ from here on out.
Here's everything coming to Disney+ in August 2021:
Wednesday, Aug. 4
Cesar Millan: Better Human Better Dog Episode 1-2
Chip 'n' Dale: Park Life: Season 1, Episode 2
Marvel Studios Legends: Episode 10-12
Monsters At Work: Season 1, Episode 6
Turner & Hooch: Season 1, Episode 3
America's Funniest Home Videos: Animal Edition (Season 1)
Fancy Nancy (Season 2)
Short Circuit (Season 2)
Friday, Aug. 6
Star Wars: The Bad Batch: Season 1, Episode 15
The Mysterious Benedict Society Season 1 Finale
Beverly Hills Chihuahua 2
Beverly Hills Chihuahua 3: Viva La Fiesta!
Killer Shark Vs. Killer Whale
Mrs. Doubtfire
Wednesday, Aug. 11
Cesar Millan: Better Human Better Dog Episode 3-4
Chip 'n' Dale: Park Life: Season 1, Episode 3
Monsters At Work: Season 1, Episode 7
The Wonderful World Of Mickey Mouse: Episodes 17-18
Turner & Hooch: Season 1, Episode 4
What If... Season 1 Premiere
Breaking Bobby Bones (Season 1)
Chicken Squad (Season 1)
Gabby Duran & The Unsittables (Season 2)
Friday, Aug. 13
Star Wars: The Bad Batch: Season 1 Finale
Aquamarine
Shark Attack Files (Season 1)
Wednesday, Aug. 18
Cesar Millan: Better Human Better Dog Episode 5-6
Chip 'n' Dale: Park Life: Season 1, Episode 4
Monsters At Work: Season 1, Episode 8
The Wonderful World Of Mickey Mouse: Episodes 19-20
Turner & Hooch: Season 1, Episode 5
What If... Season 1, Episode 2
Diary of a Future President (Season 2)
Dr. Oakley, Yukon Vet (Season 9)
Growing Up Animal (Season 1)
Life Below Zero: Next Generation (Season 1-2)
The Owl House (Season 2)
Friday, Aug. 20
Wednesday, Aug. 25
Cesar Millan: Better Human Better Dog Episode 7-8
Chip 'n' Dale: Park Life: Season 1, Episode 4
Disney Gallery: Star Wars: The Mandalorian Season 2
Monsters At Work: Season 1, Episode 9
The Wonderful World Of Mickey Mouse: Episodes 21-22
Turner & Hooch: Season 1, Episode 6
What If... Season 1, Episode 3
Dr. K's Exotic Animal ER (Season 9)
Gigantosaurus (Season 2)
Wicked Tuna (Season 10)
Friday, Aug. 27
Cruella
Dan in Real Life
Disney Princess Remixed: An Ultimate Princess Celebration
Underdog