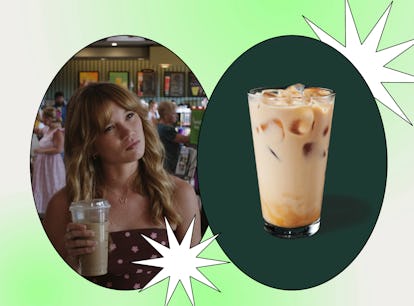 We Guessed The Summer I Turned Pretty Characters' Starbucks Orders
Belly is def a Frappuccino girly.
Courtesy of Prime Video/Starbucks/Elite Daily
Ever since Steven caught Taylor getting coffee in Season 2 of The Summer I Turned Pretty, fans have been wondering what was she drinking. After all, a person's Starbucks order can tell you a lot about their personality. For instance, Belly is known to have a significant sweet tooth, so she'd likely opt for something like a sugary Frappuccino on her Starbucks run. While they may be brothers, Conrad and Jeremiah would also have vastly different go-to drinks to match their vibes. With Taylor's drink mystery as the inspiration, here is what I think each of The Summer I Turned Pretty characters' Starbucks orders would be.
As a fan of both TSITP and dissecting Starbucks extensive menu of drinks, breaking down what each character would order was easy. It also didn't hurt that there are plenty context clues in both the Prime Video series and books by Jenny Han to go off of. Just like there is a Starbucks drink for every Taylor Swift era, there is an order to match your fave TSITP character. It's unclear if there's a Starbucks in Cousins Beach — even though it feels like there's a Starbucks everywhere — but if the TSITP crew ever make another pit stop for coffee on their way to hang, here is what they would order.